Long has the Mediterranean been a source of inspiration for artists and writers alike. Both forms (writing and art) translate their subject matter in uniquely different ways, but when fused together, something magical happens. This is what we see in the new collection by Isabel Guarch, who worked alongside Mallorcan writer Maria de la Pau Janer to create Noms. A beautiful jewellery collection merging words and precious artisan jewels.
Their Noms collection was presented in one of the most exclusive hotels in Palma, Can Bordoy Grand House and Garden. The collection is a reflection of their long-standing friendship and shared love for the Mediterranean and their beloved homeland, Mallorca.
The collection includes beautiful gold necklaces in a choice of letters (A-Z) as well as variations in turquoise, pearls, multicolour and tricolour. In classic Guarch style, the necklaces are infused with precious stones and gorgeous pieces of colour.
For more details about Noms, visit Isabel Guarch at her boutique store in Palma.
Address details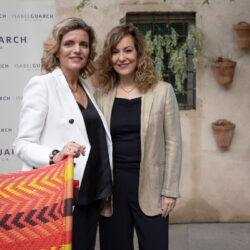 Isabel Guarch
Plaza del Mercat 16, Palma