For some on their journey to seeking outdoor furniture, it rarely goes deeper than flat-packs and scrolling online. It becomes a task of finding the quickest and cheapest item, a mind-set which regrettably, distances us from seeing how furniture is made. It is a story that we know but rarely appreciate. You know the one in nature where the roots of a tree turn rain shower into fibre. Where the wood matures, spiralling inside for years until it reaches the hands of a carpenter. Where out of a little workshop in Mallorca, every piece of wood is cut, sanded and shaped into furniture. For Marc Kuenzle at Casa Lima, this is the story behind his Made in Mallorca collection. From armchairs to sun loungers, to tables and daybeds, his team treat the wood lovingly, right down to the minutest fibre.
As soon as pallets of African Iroco wood arrive at the Casa Lima workshop in Consell, the carpenter is set straight to implementing the design. Over a course of five to six weeks, Marc explains how "every aspect of the process is overseen" before the custom-made furniture arrives at his Casa Lima store in Palma. He takes us to a chestnut sun-lounger in the corner of the store and highlights its impeccable form, drawing attention to its unique symmetry. Each of the wooden pieces are immaculately in line with each-other, which Marc says is like establishing numerical order. "Design for me is like the Fibonacci sequence where you find this kind-of golden ratio between numbers. It is about connection, the relationship between pieces has to be right."
Once a former banker in Switzerland, Marc's flair for numbers has resulted in a unique furniture design, only found in Mallorca. His success, he says, is owed to appreciating the island's natural forms and never parting with what "feels right". To illustrate this, he pulls out a piece of paper and draws a Mallorcan sunset with its basic three elements: sea, sand and sky. He plays with the paper, spinning it and stopping it at a diagonal slant. "What do you see? Just a load of random lines, right?" he turns the paper around so the sunset re-aligns. He holds it up to us, creasing a smile. "This is what I mean by harmony in design."
While on the one hand, Marc's Made in Mallorca collection is sent all over Europe, on the other, he receives furniture from as far as Asia and Africa. His taste for free-flowing pattern is an interesting contrast to his sequence-structured Made in Mallorca furniture. The wood changes throughout Casa Lima, perfectly streamlined into loungers and beds, but then left uneven and rustic in other furniture. Two towering tables leant against the wall, rougher in appearance, provide the perfect opportunity to ask Marc which style he prefers. "Imperfect or perfect?" He smiles, analysing where the wood naturally darkens and swirls in random. "Nature is perfect by design" he says, with one hand on his fine-tuned sun-lounger, the other facing his rustic table. And in between? A man who really appreciates how furniture is made.
Address details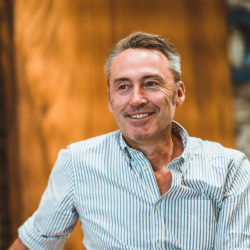 CASA LIMA
23C, Carrer dels Paraires, Palma