Bruno, Maximilian and Valentin Weidl were joined by fellow entrepreneurs in the city for the launch of their new business enterprise, NXT Boardroom. Their new flagship space in Palma is the third location to be opened, after other locations in Munich and Hamburg.
The arrival of NXT Boardroom marks an exciting time for business people in Mallorca looking to connect with each other. Together, Bruno, Maximilian and Valentin offer an exclusive members-only community where top executives, CEOs and entrepreneurs can gather to produce their best work. "At most networking places you never know who you're going to meet and sometimes it's not useful at all.
We are for the people who want to make good business happen," says Maximilian. The Weidl family celebrated the launch of NXT Boardroom in Palma with a DJ and food by Marc Fosh catering. Guests at the event were shown around the new space, where business people are invited to work, collaborate with others and meet like-minded people.
If you're interested in becoming a member of NXT Boardroom, you can find out more here.
Address details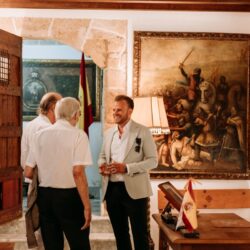 NXT Boardroom
C/ de Sant Jaume 19 (1A), Palma