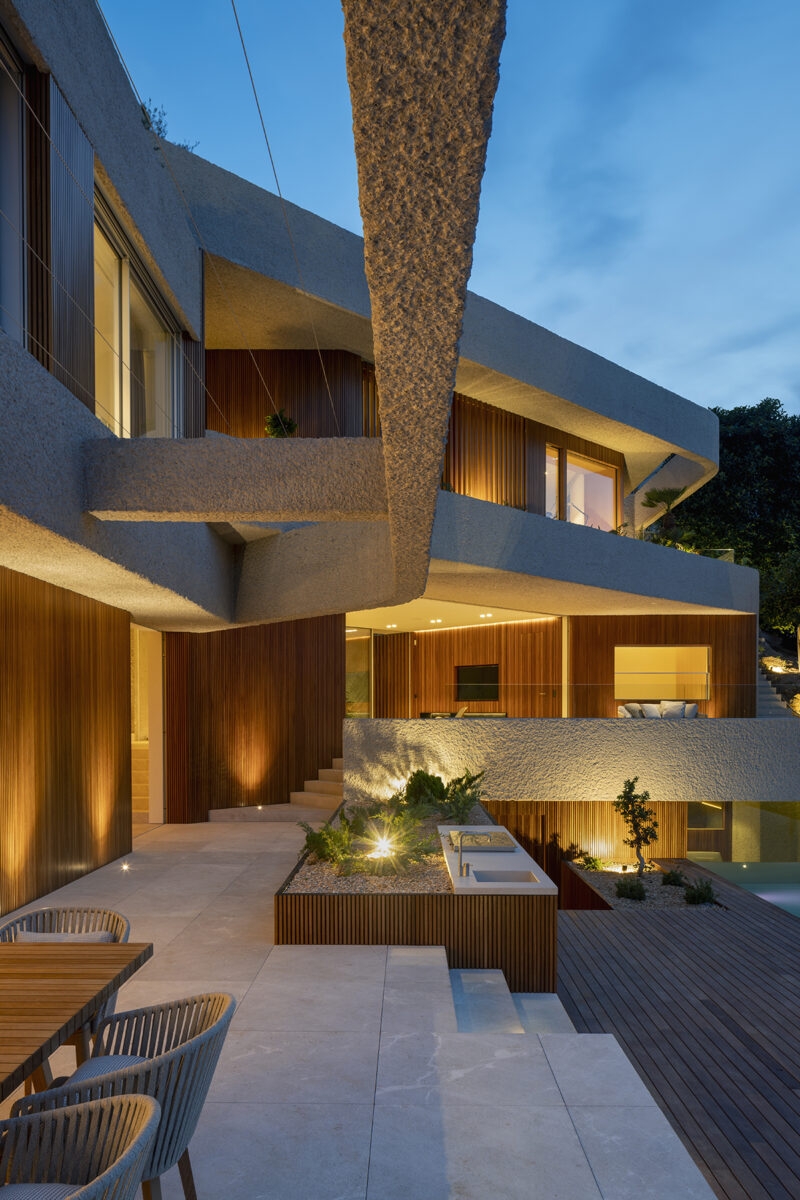 "Afundamental concept behind the design was camouflage as a act of mutual benefit between the building and its environment," explains Osvaldo Luppi, the multi-award-winning architect responsible for this remarkable high-end family home. Inspiration came from its spectacular setting, on a sloping hillside surrounded by scented pine forest and overlooking the turquoise water and golden sands of Camp de Mar. The idea was to minimise the visual impact of the property from the coast by integrating it with its surrounding natural elements.
Infused with local stone
One way this was achieved was the use of local stone as an aggregate in the concrete mix – a material that features heavily the design. Once set, the concrete was bush-hammered by hand to both expose the aggregate and give the texture of carved stone. As a counterpoint, vertical teak-style iroko wood slats form doors, railings and cladding that fold inwards, allowing all the aluminium windows to be concealed. This, together with the choice of natural stone flooring both inside and out, blurs the boundary between inside and outside spaces.
Live nature also played a huge role in the camouflage concept, with the planting of holm oaks and pines, green roofs, hanging gardens along concrete beams, and vines climbing walls and covering pergolas. The living flora has been employed almost as a construction material, and one that will only continue assimilate to the dwelling to its environment as it grows.
Striking and innovative design
The layout of the design also maximises natural light and views across the bay, with bedrooms making the most of these sea-and-forest vistas. A basement indoor pool area has a dramatic through-glass view to the main outside swimming pool, also from where bathers can gaze over the region's stunning scenery. Completing and perfectly complementing the design is furniture by interior impresarios Terraza Balear.
The result is an masterpiece of design that not only creates beautiful living spaces that flow effortlessly between themselves, but forms a whole that not only belongs to, but also deserves to be part of, its superb natural setting.
Photos by Mauricio Fuertes
Written by Leon Beckenham
Address details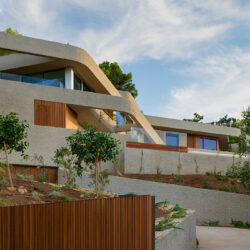 OLARQ Osvaldo Luppi Arquitecto Mallorca
Carrer de la Protectora, 10, local 6, 07012 Palma