It's 10am on a Monday morning and architect Alejandro Palomino is giving his team an overview of the week. He is talking passionately to his designers, who are tapping away on their laptops and taking notes. We watch him through a glass wall in a very smart meeting room  (although not for much longer we're told). "I want to show you where we're moving to!" Alejandro says, following his team. He leads us down the stairs of the Plaza Bendinat complex where a much bigger premises awaits. "There's more light here and we've made a presentation area with sofas and olive trees," he says, beaming with pride at his smart cinema room. The new space is characteristically Palomino in style, where only the most luxurious materials have been used. "I may not look young any more, but we're a young firm at heart," he says grinning. "Our designs are always contemporary."
This year, Alejandro has worked on over 40 projects around the world, some as far as Jamaica. However, to our surprise, it is in Palma where the award-winning architect has spent the majority of his time this year. He is well-known on the island for designing stunning properties by the sea, normally infused with soft lines and breath-taking glass panelling. Therefore, it seems odd to think of Alejandro's work in a busy city, until that is, he shows us his presentation.
"You can see here the way we opened up the apartment block and maximised on light," Alejandro says, pointing to a stunning new project in central Palma. "The architecture before was not working, it was boring. So the developers asked us to change the project and do it differently." He looks for another file, tapping his touch-screen TV and bringing up another image. "It was about creating a better way of living and giving each apartment the most amount of outdoor space," he explains, pointing to a series of sleek patios. His fingers scan the outline of its structure, made for light urban living with little overshadow from neighbouring builds. It is a beautiful example of contemporary work and a credit to Alejandro's versatility – which he emphasises doesn't finish at private homes. "We've had a busy time designing new hotels like the St. Regis in the Caribbean and most recently, luxury store fronts as well" he adds, including the audio-visual brand, Bang & Olufsen.
Wherever Alejandro Palomino is called to, city or seafront, it seems his knack for creating light, airy builds is inherent. He remains at the forefront of sustainable building using stone from Mallorca and integrating solar panels in a subtle, yet sophisticated way. "Before, construction was always about profit and raising costs, but this is changing. It's much more client-centric and building what people really want," he says, specifying a demand in energy-saving homes. "We could see some years ago a shift in the market towards sustainability, but long before that, it always felt like the right thing for Mallorca. We try to create fashion, not ever be behind it," he concludes with conviction. A visionary of his time and absolutely, the architect of the future.
Written by Rosie Foot
Photos by Sara Savage
Address details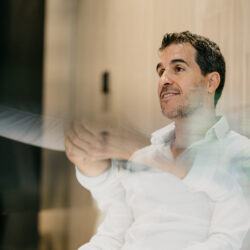 Alejandro Palomino Arquitectos
Arquitecto Francisco Casas 17, Local B-23, Bendinat