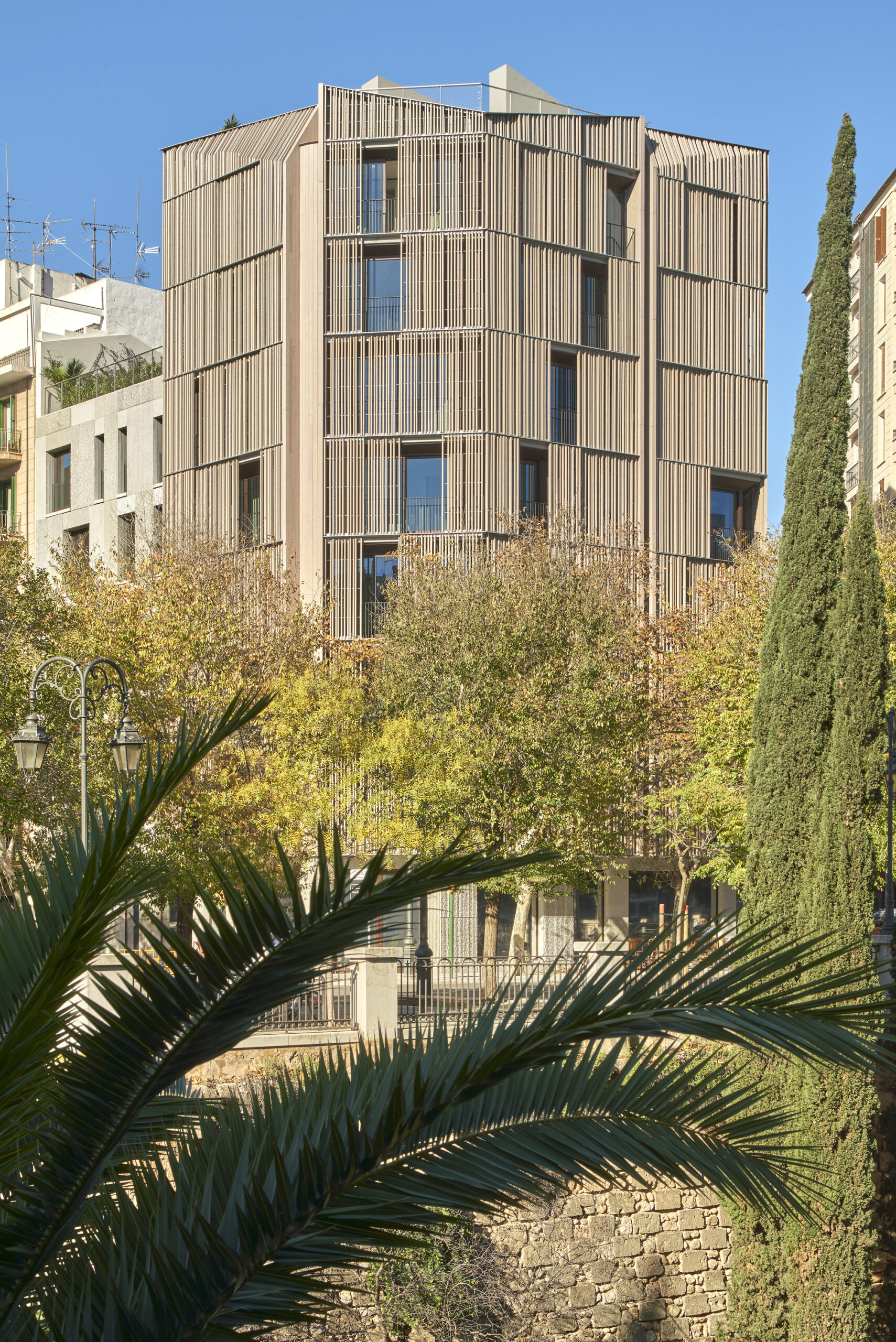 When local architecture firm OHLAB was commissioned to design a high-end apartment complex on Paseo Mallorca in Palma, cofounders Jaime Olivera and wife Paloma Hernaiz, felt a strong sense of responsibility. Respecting the city centre's urban and cultural environment in their design was crucial, whilst staying true to Passivhaus standards, a set of building criteria that achieves maximum energy efficiency. "Our client wanted to do something very iconic for the city," explains Paloma.
An ever-changing facade
A smart two-sided facade forms the 10-apartment building's dynamic shell. More than 350 sliding vertical wooden slats are a contemporary nod to traditional Mallorcan shutters, filtering the sun and modulating the light and shade in the living areas overlooking the Paseo. "They are very configurable, very permeable, and very flexible," describes Paloma. A second, more solid, textured stone facade protects the more private rooms from any outside hum, thus creating a greater feeling of privacy. This, combined with cross-ventilation and a heat recovery system ensures maximum energy efficiency.
Interior mirrors exterior
A restrained palette of natural and local materials such as Mallorcan stone, aged bronze, and various types of wood, seamlessly brings the feeling of the exterior inside. There is a strong emphasis on quality and texture, and even smell is carefully considered. "All the walls and ceilings are in traditional lime mortar. There's a very special smell," Jaime tells us. Even, the immaculate cedar cabinetry has an earthy perfume. In essence, materials have been meticulously selected to harness a Mediterranean soul.
The building's multileveled inner courtyard is lush with vegetation and connects the different landscaped terraces, which together with a waterfall, cascades down to the basement. These elements, combined with cross-ventilation, allows cooling of the interior areas and regulation of humidity, especially in the hottest months of the year. Additionally, the building's common areas include a spa with a heated indoor pool, steam bath and changing rooms, as well as a gym facility overlooking the courtyard garden.
Text by Ché Miller | Photos by José Hevia
Explore similar property for sale in Palma de Mallorca!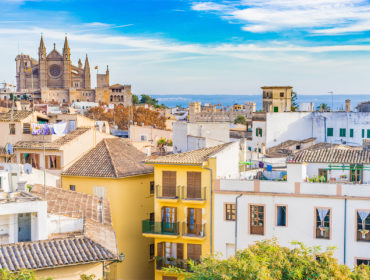 Own keys to an apartment in central Palma and you're looking at real estate gold. Now is the time to find your dream property in the capital city of Mallorca.
Address details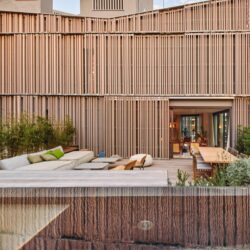 OHLAB
Palma de Mallorca