Modern life has become notoriously fast-paced. One of the most common complaints heard today is how busy we are, and how little time we have to get things done. We are all racing against the clock, busy fulfilling the neverending checklist of daily chores, to-dos, family demands, work duties…only to wake up every morning and have to do them all over again. So we try to do things ever faster, scrambling to save time, rushing through life without actually engaging with it. Even gratification needs to be instant. No time to waste!
But how did we get here?
Many of us adhere to the notion that if we are not busy, we are not living to our full potential; that life is measured by how much we can cram into it, and that success is measured by the weight of demand placed on us. We are also prone to competitive pressures – both internal and external – compelling us to stay 'ahead of the game', not just to thrive but to survive. And the symptoms of this way of life are all too obvious – tiredness, anxiety, dissatisfaction.
The Slow Movement isn't new. Born in Italy in the early 1990s as an alternative to fast food, Slow Food became the first of its kind to push back against the culture of speed. More recently, the Slow Movement has grown to encompass many aspects of life, from business to relationships, education to exercise. It has expanded into a general philosophy, or way of living, that promotes the idea doing things well rather than quickly, choosing quality over quantity, unhurried over rushed. It promotes the handmade over the mass produced, the local over the imported, the journey over the destination.
But the Slow Movement is not about doing everything slowly, or rejecting the trappings of contemporary life. It's more concerned with reaching a balance whereby we are in control of our time and our technology, rather than the other way round.
Recent figures show that the foreign population of the Balearic Islands has doubled in the last 15 years. And it is a safe bet that many of those who moved here did so in search of a slower pace of life, to escape the hectic rat race of mainland metropolises to the mellower lifestyle of a Mediterranean island. While it can be hard to apply the principles of Slow Living when you are living in, say, London, Madrid, or Berlin, there is something about life on Mallorca that encourages, even demands, that we slow down. Whether consciously or not, for many, moving here is the first step in embracing the Slow ethos. Living on Mallorca can certainly have its own particular set of challenges, but one of the first pieces of advice new arrivals get is "just accept that things can take a little longer…". It provides an opportunity to slow down to a gentler pace of life, one in which time is taken over things, savoured, experienced, enjoyed. To live in the here and now, and savour the Slow.
Photos by Sa Punta de S'Aguila, Son Bunyola Estate
Address details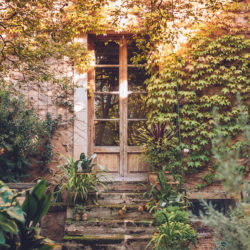 Sa Punta de S'Aguila
Son Bunyola Estate Luxury Holiday Villa Rental