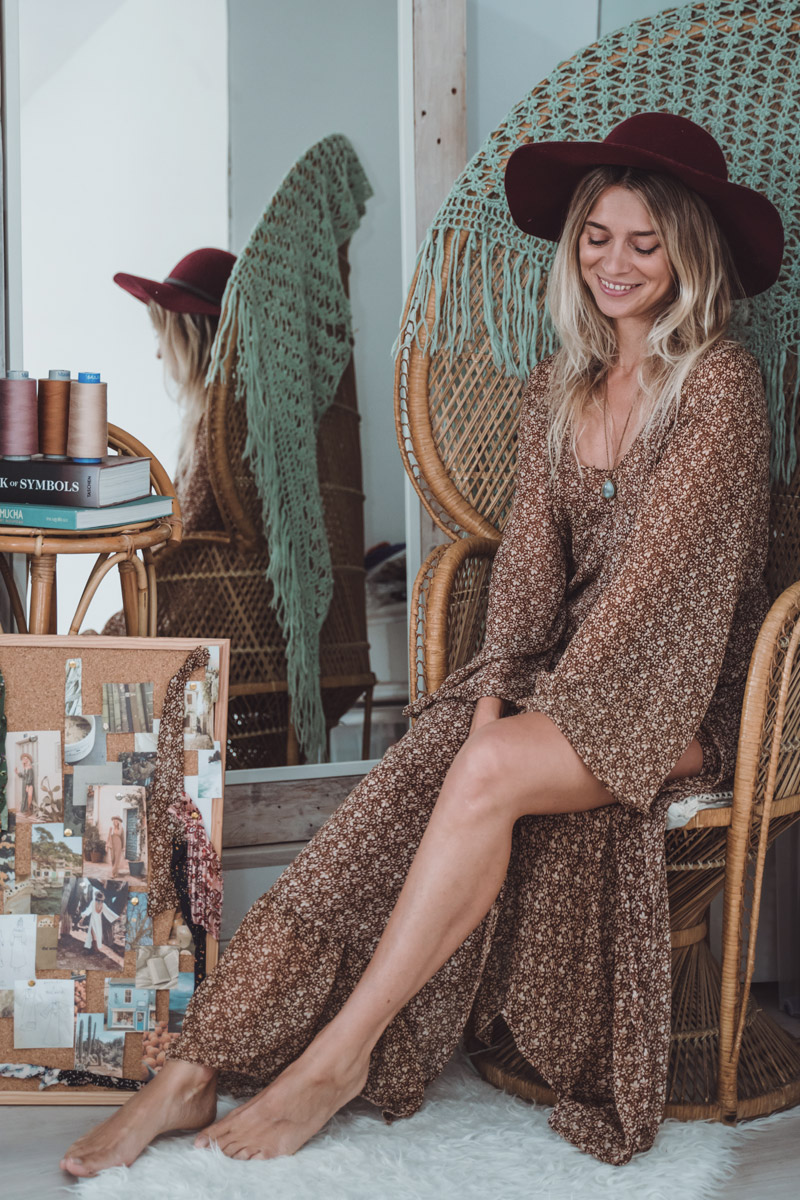 Elisa Bozzolini, fashion designer and founder of Sunvibes, marries sustainability with style, handmaking soft, flowing, feminine fashion for women who want to feel free and beautiful. Sunvibes dresses and kimonos are unique pieces that will be treasured and worn for many seasons to come.
"Soft, subtle, sexy and sovereign". This is fashion designer Elisa Bozzolini's mantra and the energy she skilfully stitches into each Sunvibes garment. In her workshop, racks of flowy, feminine dresses and kimonos in various hues and whimsical patterns are on display. Today, coincidentally, is the launch day of her new Wild Hearted collection. "This collection I feel is the best and most personal I have ever made", Elisa tells us. And as with every Sunvibes collection, Wild Hearted was consciously created. 
Soulful and sustainable
Sunvibes has embodied the ethos of slow fashion since the label's inception in 2012. "For this latest collection we sourced entirely local fabrics from a deadstock fabric supplier that may have otherwise been unused," Elisa explains. "We bring the fabric to the workshop where we have already made the patterns for the season. It's a very different concept to fast fashion. There may only be one dress produced in a particular fabric and style. We are creating the garments from scratch, and I think that that brings a special energy to the clothing we produce."
It was Italian-born Elisa's move to Mallorca in 2015 that sparked the evolution of the brand into what it is today. "When I moved here I felt a different energy and a sense of possibility," Elisa recounts. 2016 saw her first full collection released. "Up until then, my personal style was very confused. It wasn't until Mallorca that I began to create the clothes that reflected who I really was. But I still couldn't wear my collection myself. I had the vision but couldn't yet embody it." Now, wearing Sunvibes is synonymous with Elisa's identity. "The dresses were an expression of who I wanted to be, and wearing them formed part of my self-development journey." 
The Sunvibes aesthetic is feminine, bohemian, and free – qualities that visibly emanate from Elisa, along with creativity and passion for what she does. In fact, she designs many of the uniquely patterned 
Sunvibes fabrics herself before they are printed onto sustainable viscose and cut and sewn into garments. And no fabric is thrown away. Any scraps can be found in two compact boxes, ready to magic into a scrunchie, purse, or other stylish Sunvibes accessory. It certainly is admirable, and Elisa was seemingly ahead of her time. As conscious consumers, we're only now beginning to reject the principles of fast- fashion with its cheap offerings and accelerated trend cycles. Now we want to celebrate the art of dressmaking and the skill of the couturiers. We want to fall in love with the garments, buy fewer pieces less often, and be very deliberate about what we allow to hang proudly in our wardrobes. A Sunvibes piece certainly fits the brief.
A new take on personal styling
And what else is on the horizon for Sunvibes? "Lately, I have been doing a lot of work around the feminine archetypes and clothing," Elisa shares with us. "This will form part of the mentoring I am offering clients, discussing with them the parts of themselves they want to embody, and bringing this style into their wardrobe" she explains. "Drawing out personal style in a safe space is where I'm at my best. It's somewhere I was hiding for so long, and it's a joy to help women bring these aspects out into their consciousness." 
Text by Ché Miller | Photos by Sara Savage