Set in 21 hectares of natural countryside, the Hilton Sa Torre Mallorca Resort has a carefully cultivated vegetable garden. This made it an appropriate venue for an extraordinary dining experience, created by Madrid-based gastro-botanical chef Rodrigo de la Calle – whose Madrid restaurant El Invernadero was awarded one Michelin star for 2017.
Son of a farmer and the grandson of cooks, Rodrigo was immersed in fresh produce and gastronomy from childhood. Little wonder he became a chef, training in restaurants including Lhardy, Goizeki Rabi, and Mugaritz, and being mentored by Martín Berasategui. Rodrigo wrote the book 'Gastrobotánica'; holds important culinary awards; opened his first restaurant in 2008, and is gastro-botanical consultant to French chef Joël Robuchon.
A friend of Zaranda's Fernando P Arellano, Rodrigo had previously been a guest cook at Hilton Sa Torre and was pleased to return to Mallorca. "The happiest person here is me!" he told 10 of us – invited by abcMallorca's editor Helen Cummins to a Chef's Table dinner – adding that he enjoyed the challenge of cooking in a different kitchen. He was assisted by the hotel's chef Carlos Sierra Galán.
As in his own restaurant El Invernadero, Rodrigo had handwritten (in pencil) a menu for every diner, highlighting each dish's star ingredients: vegetables, fruits, and herbs – with only a few animal products as garnish. He's not vegetarian, but his cuisine is based mainly on botanical produce.
Rodrigo delivered every exquisitely presented dish, explaining each one. Some were to be eaten in a certain way – in a particular order or combination of ingredients, or with fingers. Some were accompanied by a healthy juice; others, a glass of matched wine.
As well as amazing food, we enjoyed great interaction with Rodrigo and Carlos, and each other. The Madrid chef revealed a sense of humour – on a couple of occasions warning us not to stand up quickly after a particularly superb dish, in case we fainted with pleasure!
The numerous highlights of this unforgettable dinner included: an intensely flavoured tomato-water gazpacho with caviar-stuffed cherries, crème fraîche and the frozen herb 'escarcha'; a tribute to Joël Robuchon; Rodrigo's hand-made butter, and delicious bread, and the excellent 'quinotto' – a risotto made with quinoa.
We tasted uncommon ingredients, including: huacatay (Peruvian black mint), the algae spirulina and chlorella, oxalis (wood sorrel), marsh samphire, taro root, and many others. His cuisine is both a revelation and revolutionary … food for the future.
Remember the name Rodrigo de la Calle: we're sure he'll return to cook again at Hilton Sa Torre.
Address details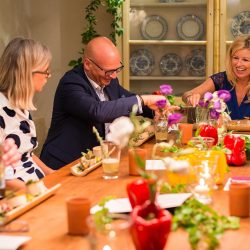 Hilton Sa Torre
Camí de Sa Torre, Km 8,7, Llucmajor