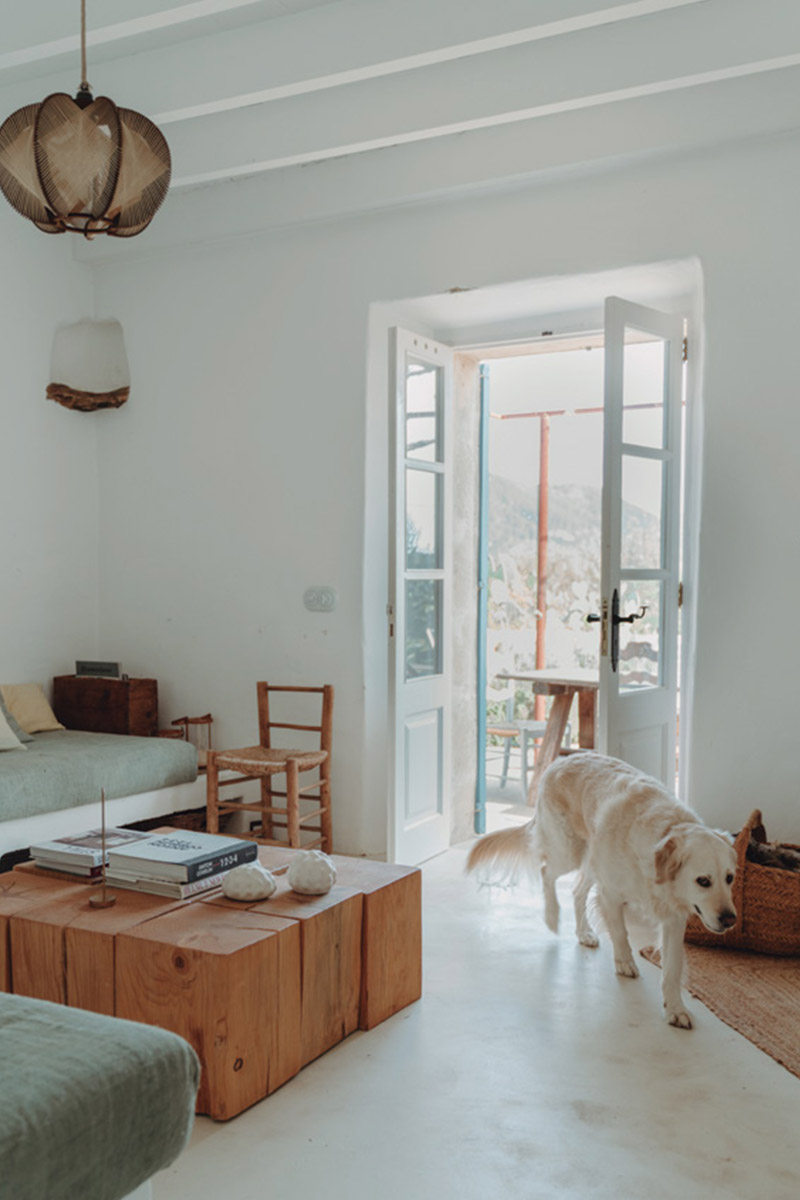 Once a self-confessed workaholic living in Sweden, it suddenly struck Mercedes Lopez Coello one day when she was deep in a project: "Is this it? Is this how we are going to live our lives?" She knew it was time for a change, and that epiphany led her on a path ultimately to her dream home on Mallorca.
The century-old finca is nestled in the Moscari foothills of the Tramuntana, set among fields scattered with almond trees and olive orchards, a timeless rustic idyll whose soundscape is the buzz of cicada, soft dinging of sheep bells and clucking chickens. It was love at first sight for Paraguay-born Mercedes when she saw the stone farmhouse. "I fell in love with the outside," she recalls, "it gave me goosebumps, and I told my husband 'this is it'".
AN AIR OF SIMPLICITY
At first, Mercedes thought she was only going to make a few changes, but the project soon took on a life of its own. "At first I didn't know where to begin, but once you get started, you soon find other areas that need fixing, and then one thing leads onto another…" she explains. What she did know from the outset, however, was she wanted it to have an air of simplicity, even austerity. This was largely achieved by ubiquitous crisp whitewashed walls and smooth microcement flooring which create a clean and calming backdrop throughout the house.
Mercedes also knew that she wanted natural materials to play a central role, too, with the use of stone, earthenware, wood, linen and rattan. These would help echo the charming foibles of the old house and its absence of straight lines, to create a more organic, flowing, and characterful feel. "Nothing was straight in the original house, and so everything had to follow in this style of imperfections," says Mercedes.
ISLAND ARTISTS AND ARTISANS
Mallorca-based talent and artisans were called on too, with kitchen specialists Cocinart advising her on rustic pine cabinets to disguise modern appliances. Old farming equipment was also employed to bring some of rural Mallorca inside. Interior designers Espanyolet also brought the countryside indoors, but figuratively with fabrics in soothing sage greens and sunflower yellows. A lovely wool tapestry by Felanitx-based textile artist Adriana Meunié hangs on one wall, while the ceramics of Mallorca-born potters Jaume Roig and Joan Pere Català adorn tables and nooks. Much of the rest of the furnishings and decor are pieces that Mercedes has collected over the years from her travels and her time living in Sweden.
Like most who live on the island, Mercedes chooses to spend much of her time at her country home outside. While she has made some fragrant additions to the flora, like lavender, sage, and rosemary, she prefers to not interfere with the garden's semi-wild, untamed collection of giant succulents, ancient gnarly olive trees and creeping vines. "There's more magic in the imperfection of things," Mercedes concludes.
Text by Leon Beckenham | Photos by Sara Savage