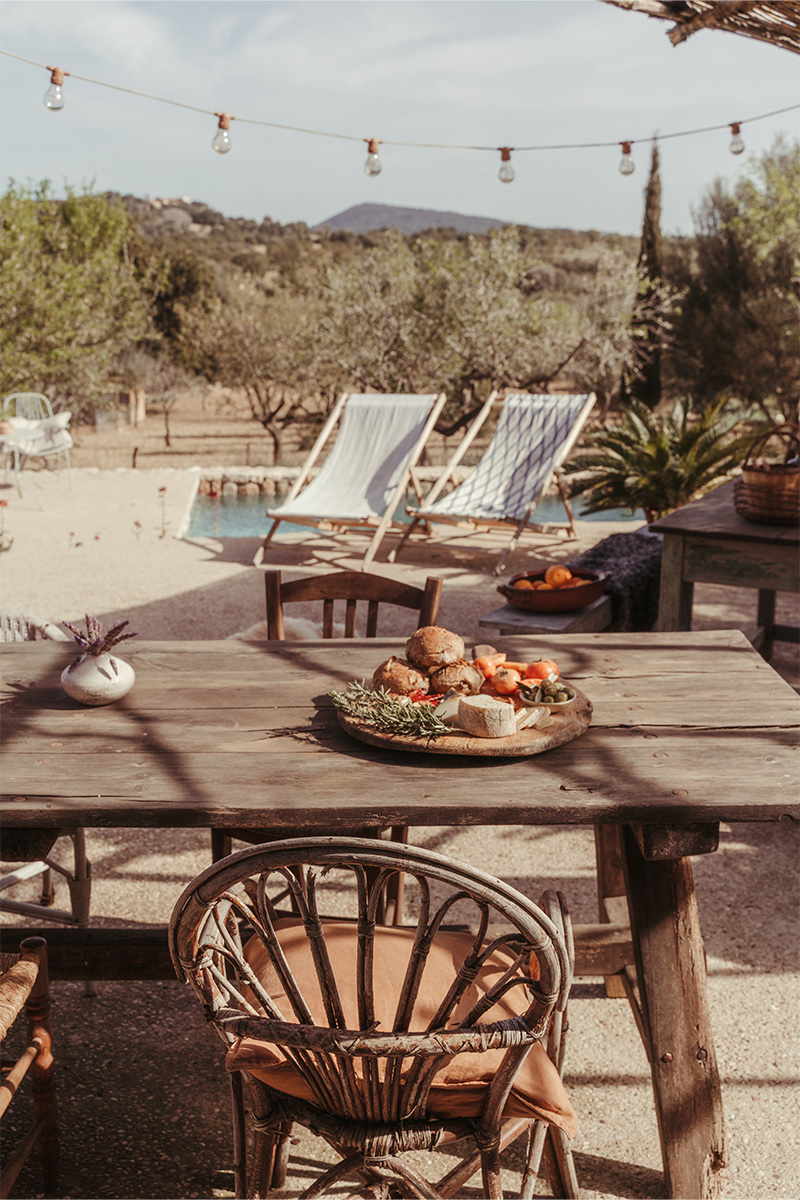 As we make our way along the country roads around Moscari, we start to wonder if Mercedes López Coello wants to be found. Bicycle signs on the tarmac tell us it's an area for slowing down and soaking up the peace of Mallorca. Sheep pasture unhurried in fields dotted with almond trees and the crow of cockerels carries on the breeze. When we do locate her, we immediately understand why she had to buy the 100-year old finca.
The estate agent didn't have the key to let them inside the first time Mercedes came to look at the property. "I fell in love with the outside. I told my husband 'this is it'," she says. With its arched entrance flanked by two gnarled olive trees and an old broomstick waiting on the door, she thought it looked like a charming hobbit's home. Once they did see inside, they found a place which had been refurbished but not to their taste. Initially Mercedes thought a bit of paint and some cosy rugs were all that was needed but gradually it turned into a full-blown renovation project.
The work of local artisans
Underfloor heating was installed and dark red tiles replaced with uplifting white micro-cement. A downstairs bathroom was removed to open up the kitchen and maximise on natural light. Cocinart advised her on the rustic pine cabinets we are going to live our lives?" Mercedes, who is originally from Paraguay, thought a move to Tuscany might be the answer.
Her husband replied, "that's because you haven't been to Mallorca." One December day she visited the island. Three months later they moved for good. On the patio beside the salt water pool, we share a generous spread of walnut buns, cracked olives, ramellet tomatoes and creamy goats cheese. Mercedes tells us she has recently been opening up her home for holistic workshops. She mentions the herbalist Juan Cánavas and culinary expert Deborah Piña, who both use their knowledge of Mallorca's flora in their distillation or cuisine. Four times a year, a gathering of women come together here to reconnect with the rhythm of each season. This spring, they will focus on 'awakening'. With daffodils and bluebells blooming around us, we find ourselves convinced Mercedes' conscious home could awaken any guest to the magic of nature – and perhaps, their own inner magic, too.
Text by Rosie Foot
Photos by Sara Savage