When you think of the word ketchup, a certain word association usually comes to mind: Ketchup = Heinz. Now it seems possible that this association will change in Mallorca, thanks to the 'Kétchup de Forqueta' ('fork' in Mallorcan). The curious story of this tomato sauce and its young producers starts in 2014.
Llorenç Pons worked as a cook, but lost his job. A fact that coincided with the season of tomato planting, so he started to plant as many tomatoes as he could fit into his orchard in Binissalem. "I harvested so many tomatoes that I had to start cooking at home to preserve them and that way I developed a recipe for natural ketchup," Llorenç says. He began to prepare jars of ketchup and to distribute them among his friends. After receiving a lot of good feedback for it, he contacted Alejandro Arranz, who had just finished his studies in Barcelona: "We talked about it and then I got involved with the project and came here to start it," Alejandro comments.
Soon they rented a warehouse in the town of Binissalem which fulfilled the necessary requirements to manufacture and market their ketchup. By the end of September, they had manually manufactured 5,000 pots. Three months later they were all sold. The following year, in 2015, the production increased and so did the investment. "We bought a lot of tomatoes, pumpkin, and onions in the village; forgot the frying pans that we had used before and bought a special professional machine. At the end of the season we had produced 15,000 pots but realized that we could not continue in that place. We needed to be able to produce all year round and not only in the summer, and also in a place that would allow this."
That's how they started negotiations with Agromallorca S.A.T., a company with the necessary infrastructure for the manufacture and packaging and the only one that has 'ramellet' tomatoes with a certified warranty mark all year round. Alejandro says: "From the first day, we tried to produce the ketchup as naturally as possible; we have never used colorants or preservatives, so it was essential for us that Agromallorca worked without additives and, of course, that they had cluster tomatoes all year round."
Production was increased; the packaging and label changed, but the manual labour and taste specifications were maintained. The biologist of Agromallorca, Montserrat Bergas, states: "At the beginning we lost days in the manufacturing process because they wanted the same flavour that they had obtained in Binissalem. After throwing away the entire first production we started to cut everything again." "Yes," says Llorenç, "everything is cut by hand because when you cut it in the machine it does not taste the same. Our production is natural and our ketchup is natural: it does not have that processed tomato taste that others have. And now, using cluster tomatoes, it's ten thousand times better. What happens is that the product lasts about two years because it does not contain preservatives, so for us it's ideal to produce on demand."
Its second and latest production so far, was put on sale in October and included a novelty: the spicy Kétchup de Forqueta. "The spicy effect is achieved using the Mallorcan 'pebre de cirereta'. Everything is from local produce; everything is 'kilometre zero'. We have not taken a risk by making it too spicy. It is a medium heat, so the sauce gives more scope."
In general, ketchup is a condiment and not an ingredient, but the quality of the 'Kétchup de Forqueta' makes it one more ingredient in a dish. That's why these makers do not hesitate to point out: "Beyond putting it on the typical hamburger, it serves for several different meals. You can eat it with meat or fish or add a touch to your stir-fry or our typical stuffed eggplants."
Llorenç Pons and Alejandro Arranz have created a product of an indisputable quality: artisan, 100% natural and 100% Mallorcan. And they did it almost without realizing it, as they say "circumstances have brought us here." They do not have a website; they are not in supermarkets or supermarket chains. At the moment finding the 'Kétchup de Forqueta' is difficult but the search is well worth it.
Photos by Sara Savage
Address details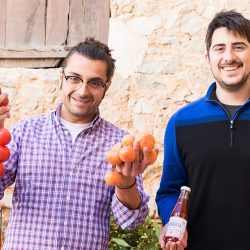 Mos Espai Gastronòmic
Gran Via Asima 15, Palma