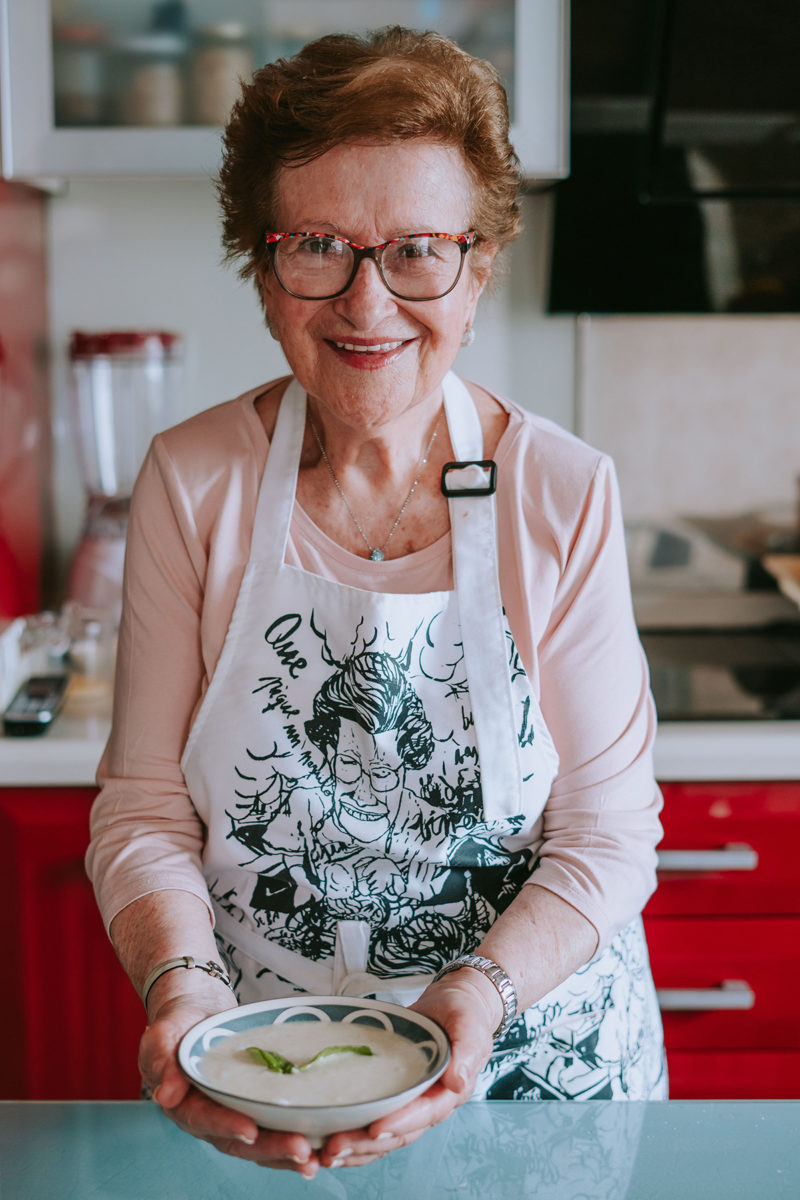 Watching María Gibert's YouTube channel and seeing her standing patiently behind the oven making her favourite recipe, will remind you of your own grandmother. She made one of her first Mallorcan dishes, Fideuà, when she was only 9 years-old. Although the pasta didn't really turn out as it was supposed to and, as punishment, she had to eat it herself, she recalls with a smile.
María Gibert lost both her parents as a young woman when she was only 21 years-old and, as the second eldest of seven siblings, then had to take charge of the household. It was here that her enthusiasm for cooking began which today gives her happiness and life but, back then, involved "somehow making something good to eat with only little money – something which required a great deal of creativity!" she says. She learnt her first Mallorcan recipes such as Sopas Mallorquinas from her mother after which she taught herself and gained inspiration mainly from cookbooks.
You would never guess that Maria is 81 years-old, quite the opposite. "I like it best when the cookery courses are really full!" she says. "I also really enjoy making videos. Sometimes people recognise me on the street and then they come up to me and thank me." After María's first husband died her family and friends wanted to cheer her up so they asked her if she could teach them how to cook – she still gives these courses today. In 2012 one of her grandchildren suggested the YouTube experiment and she is, understandably, very proud of the result. "I am one of the ones with the most followers," she says. With 27,000 subscribers on YouTube – some of her videos have even been viewed more than 200,000, some even more than 300,000 times – she is one of the most successful cooking influencers on the island.
Seasonal cooking, and Mallorcan festivals, are an important aspect of Maria's cuisine. She likes buying her ingredients from the Mercat d'Olivar although the freshest produce can be found at the Mercat de Pere Garau which has, unfortunately, become too far away for her.
Maria says if you live on Mallorca you should at least be able to make Empanadas for Easter or oven-baked fish. "Everybody works today and there's no time for complicated recipes," she says, understanding how modern-day cooking has changed, "but you just can't make a good sauce in a couple of minutes!" A click through her YouTube channel reveals praise from all sides: for the quality of the recipes and the way in which she explains them – like a real grandma. Her followers come from all over the world – many are Mallorcans living abroad who want to remain in contact with their culture. Her secret? "You have to keep a cool head when cooking," says the 81 year-old. "I recently made ravioli and it didn't turn out as it should have done but we ate it anyway."
Photos by Sara Savage
Video by Estefanía Durán