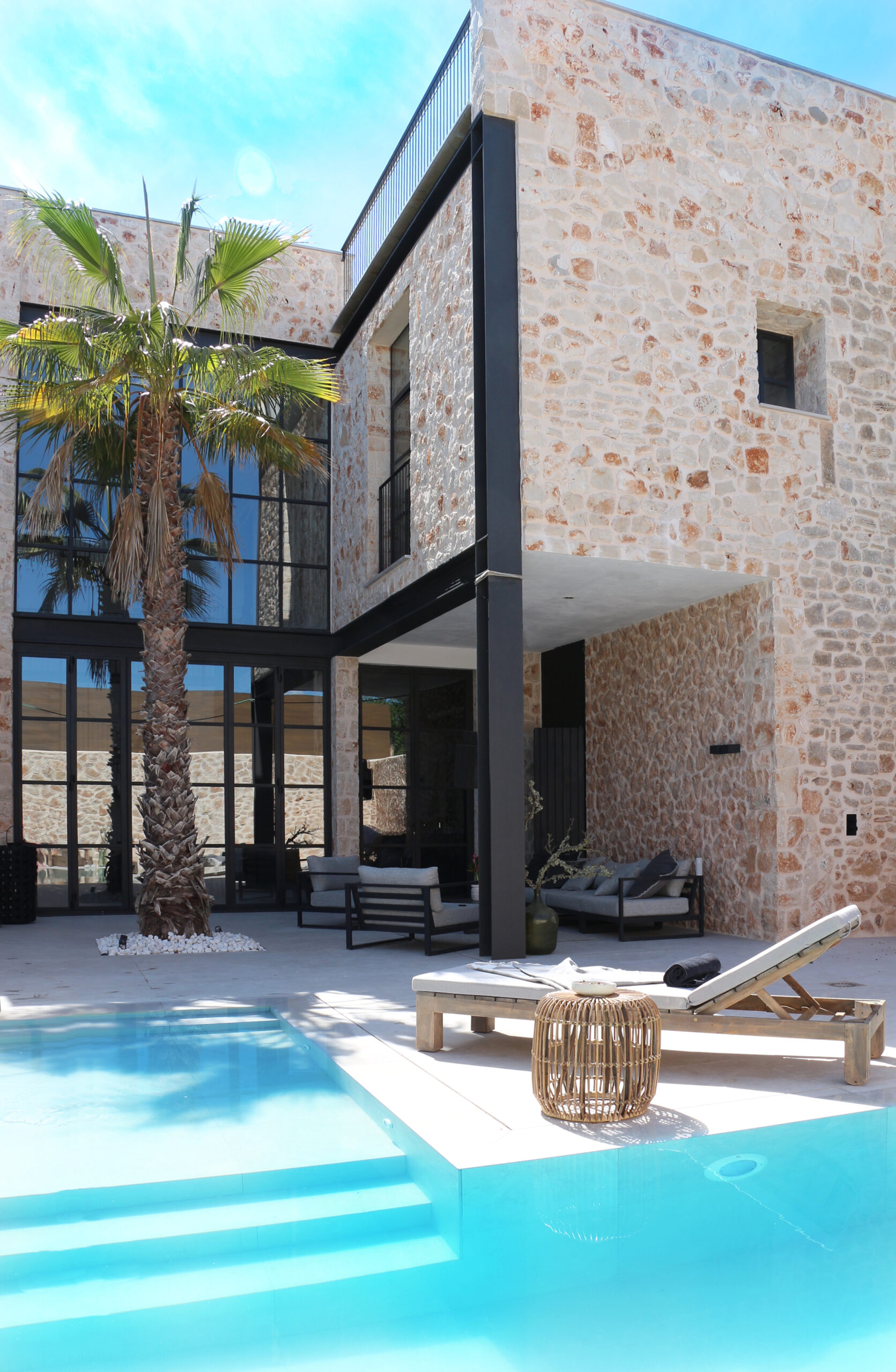 From a state of ruin, this property for sale in Santanyi has been resurrected into a modern Mediterranean masterpiece at the hands of OIB Architecture studio. Suga House has been designed with careful consideration to preserve distinctive elements such as the stone arches and materials native to the local area, whilst integrating modern architectural features. The subtle and respectful fusion gives the home a unique contemporary character but also retains authentic Mallorcan charm.
Touches of New York
Calm, natural tones predominate through the extensive use of stone and natural wood; however, the neutral palette is deftly juxtaposed with sleek black finishes and dark metals. Cleverly breaking the visual monotony, OIB drew inspiration from the New York loft style, which ties in beautifully with Mallorcan-style exposed beams and bare stonework. An industrial-style staircase leads up to a visually striking suspended platform connecting the upstairs living space. Downstairs, double-height ceilings are emphasized by huge windows and glass bi-fold doors, allowing light to flood into the main living areas, and skylights throughout ensure the entire home is bathed in sunshine.
Luxury outdoor living
A true Mediterranean lifestyle is well catered for at Suga House, with enviable outdoor spaces. The large terrace offers both covered and uncovered areas to lounge, with an aquamarine pool to cool off from the Mallorcan heat. The rooftop terrace provides the perfect vantage point to gaze over the Santanyi township and majestic Tramuntana mountains beyond. Fully equipped with a barbecue and outdoor kitchen, it's the ideal spot to while away summer evenings with good friends and good food. Suga House is a prime example of successfully merging design. Traditional Mallorcan architecture meets contemporary architecture, meets New York loft in perfect harmony to equal a sum much greater than its parts.
This property is for sale: Contact pm@helencummins.com for more information.
Text by Text by Ché Miller| Photos by Stefanie Störmer
Explore property for sale in Santanyí!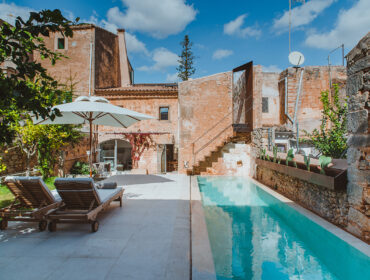 Property in Santanyí has a lot to offer, from impressive architecture to a privileged location closeby to some of the islands most breath-taking coastline.
Address details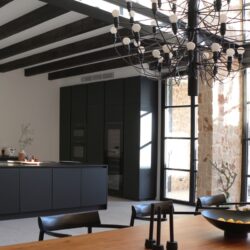 OIB ARCHITECTURE
C/ Villalonga, 2, Palma