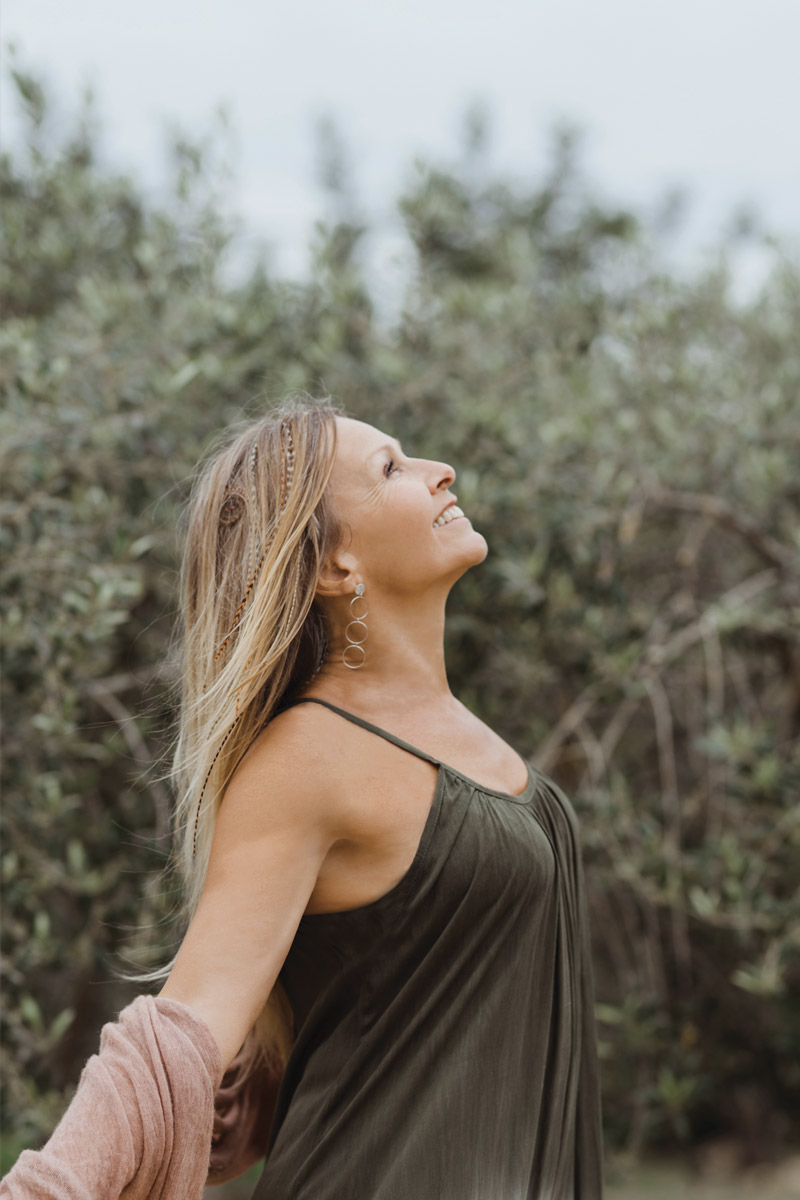 At the forefront of Mirjam's expertise is her natural ability to guide women to connect to their innate wisdom to uncover conscious and unconscious limitations of their full potential. Therefore, it seemed very aligned that she had planned a sabbatical year to create time and space for her own reconnection to her authentic self. A year where healing could occur allowing the unknown aspects of her potential to emerge. 
Settling in
The universe decided to kickstart Mirjam's sabbatical and forced her to relinquish any lingering 'busyness' by way of a nasty fall which saw her bedridden for several days. Becoming less available initially stirred up feelings of guilt, doubt and worry, however, exhaustion silenced these nagging thoughts and she finally surrendered to a new state of calm. She decided to use her extra time wisely by looking for like-minded souls online who could inspire her and listening to nourishing podcasts. She also started to breathe again, slowing down and constructing her days to support her deep healing, beginning with a conscious routine starting at 6am. She incorporated practices to help her stay calm and focused, enough movement to energise and strengthen her body, and enough time in nature to stay connected with the essence of life. 
Losing my identity
Mirjam continued adapting during the second phase of her sabbatical, leaning into a more silent and slow space. It was here that she was suddenly faced with questions around her own identity. She describes, "Without my Yin Yoga trainings and close contact with the participants, there was no immediate nurturing feedback anymore. There was no measurable compass on whether or not I was having an impact in this world. I had lost my identity – an identity which I had been building and living for the last 20 years." This prompted her to ask two crucial questions of herself: Who am I without my work, and who do I want to be in this world? This brought unexpected freedom. She liberated herself from any expectations leaving her open to explore different interests, habits and priorities. 
Why not?
In the newfound space created in her life, Mirjam became more receptive to endless new possibilities. She found she could approach situations, events and new ideas with a state of curiosity rather than with exhaustion and immediate refusal. She tells us, "All of a sudden, I feel excitement and new energy flushing through my system again, no matter how close or far from reality some of the ideas might be. 'Why not?' has become my new default attitude to life which feels like an injection of awakening." She expresses that she is finding a way back to a more playful version of herself. Deep healing, unimagined growth and transformational creativity have become tangible. 
5 tips to thrive in slowing down
Create structure within the freedom of your days
Ask yourself:

 

Who am I without my work? Who do I want to be in this world?
Set your default to 'Why not?'
Come back to a more playful version of yourself
Fully trust your intuition and stay

 

connected to your unlimited potential
The conclusion
Now at the completion of her sabbatical, Mirjam acknowledges the clarity that has steadily come to the surface over the last few months. A passionate longing and determination to dedicate her energy to empowering women has been ignited, helping others to uncover the dormant and often burdened potential that lies within. "Once we get to know ourselves on a more profound level, such as our precious and wise bodies, our complex psyche, our powerful emotions, and genius mind – then, and only then, will we be able to take care of ourselves, and be brave enough to become who we are meant to be" she explains. "It is from that healthy and powerful place we can share our light and support those around us."
Right now, she is unsure exactly how the journey will continue to unfold, however, she instinctively knows that all her skills, evolution and sharing will be put into service of the women of this world, with the purpose of connecting to our deepest truth and applying our wisdom for a healthy and meaningful life.
Text by Ché Miller | Photos by Sara Savage