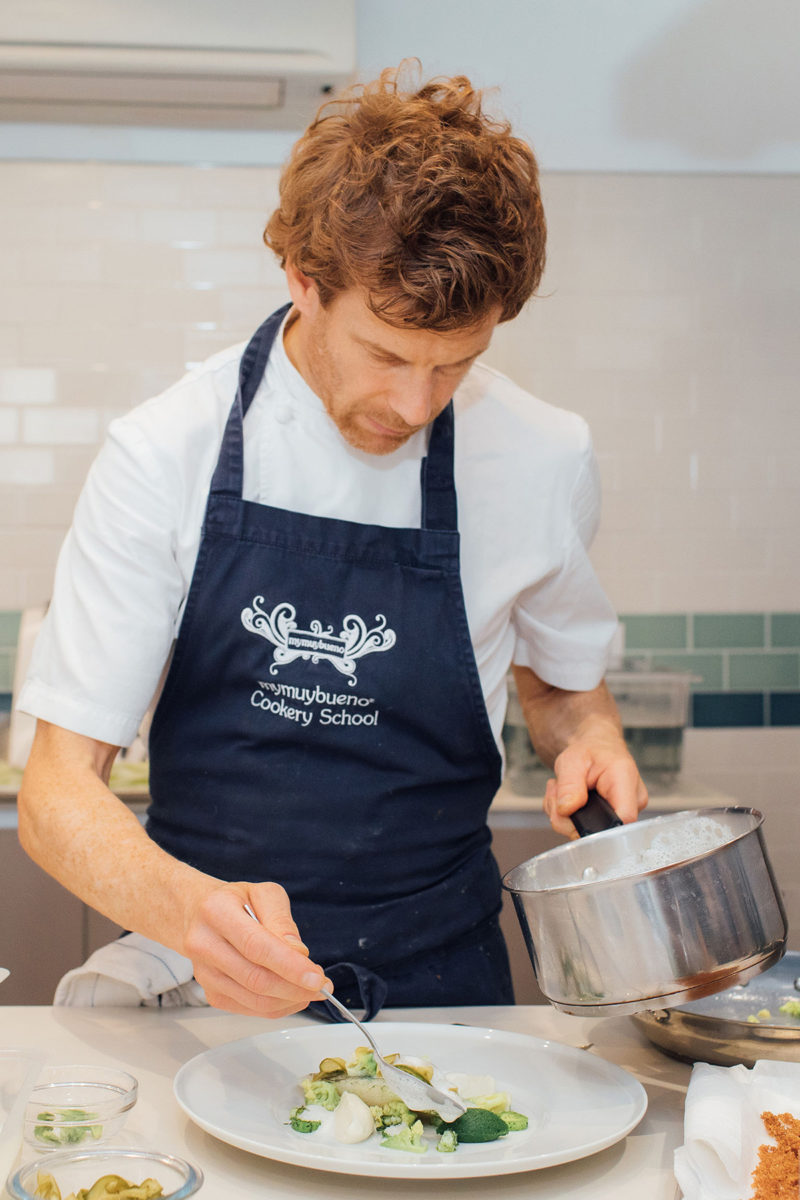 Attracting top chefs from around the world, as well as producing plenty of home-grown talent, over recent years Mallorca has certainly become one of the top foodie destinations in the Mediterranean. And bringing a fresh addition to the island's gastronomic scene is food and lifestyle group mymuybueno with a cookery school programme that promises something rather special.
The vision behind the project came from CEO and founder of mymuybueno, Justine Murphy – to invite some of the world's finest chefs to teach in the Palma-based cookery school. It was to provide access to and instruction from some of the best cooks in the business, geared towards more advanced students that include – but not restricted to – already professional chefs looking to up their game.
The most recent chef to share his extensive skills and experience was London-born chef Tom Aikens. As head chef of the acclaimed Pied à Terre restaurant at just 26, he became the youngest British chef ever awarded two Michelin stars. He has written several recipe books and also now presides over a collection of restaurants – including the Tom's Kitchen brand – spread between the UK and the Middle East.
Asked what excites Tom about these cookery classes, he replies, "I particularly like teaching chefs and a lot of the chefs coming here are well schooled already and are looking for some finishing and polishing."
"What also interests me is how chefs cook in terms of their own environment.
A lot of them work on the yachts, and it's nice to be able to give a bit more input on the creativity of the menu…for example, on a boat it often comes down to how much space you've got for storage."
Tom feels the more personal, hands-on approach of this type of teaching is invaluable for any cook looking to improve. "It's a lot easier to identify any mistakes the student is making and rectify them faster", he explains, as well as allowing them to ask questions as they go. And with the smaller classes (of a maximum of eight) the chef can offer plenty of one-to-one time with every member of the class.
On golden rules he teaches in his classes, Tom doesn't hesitate: "It's about being methodical, being consistent with routines and preparation, all done in a hopefully calm-ish environment so you're not too stressed…"
As well as a masterclass covering a range of skills and techniques, the one-day courses include all ingredients and a lunch – the student gets to eat everything that they created during the session. Other world-class chefs invited to share their expertise include chocolate and pastry virtuoso, Mark Tilling, and Claire Hutchings, who focuses on plating and presentation, as well as Mallorca's own Michelin-starred Marc Fosh. Several of the chefs, Tom included, also prepare a three-course pop-up dinner for a very select group of guests. As part of the experience, diners get the opportunity to see some of their meal created right in front of them, at what must be – for that night – the most exclusive table in town.
Photos provided by mymuybueno
Address details
mymuybueno Cookery School
C/Tous i Maroto 5B-1º, No. 14-16, Palma