A delicious meal at a privileged setting such as the rural hotel Son Gener (Son Servera), surrounded by almond trees, is the perfect way to unwind and relax. Located near the ruins of a Talayotic village, this rustic estate dating from the eighteenth century offers a Spa, an organic restaurant and therapeutic treatments. It is within this idyllic atmosphere that I met Gemma Bes, one of the founding partners of Ametlla+, who has invited me to try the innovative product they have created.
Originally from Barcelona, she came to Mallorca for love and her extensive career includes a degree in Nutrition from King's College University in London and postgraduate degrees in documentary television from the London Film Academy and Pompeu Fabra University.
Tell me about your career as a nutritionist
The first time I came into contact with people's different tastes was when I was working at a gourmet shop in Portobello. After that I returned to Barcelona with my husband and started working at the Clinica Planas. When we moved to Mallorca I was working Monday to Wednesday as a dietician and nutritionist at the Teknon clinic and then on Thursday and Friday I would be in Bilbao filming "La Botica de la Abuela", a television programme which aired on Televisión Española. I have also presented a programme for Canal 4 "Bona Salut", and two for IB3; "Tres i més" which was about the eating habits of the rich and famous and how they could be improved and "El Origen de las Cosas" which was about Balearic produce. I have also contributed to many magazines, including HOLA, Cuerpomente, Guia del Niño, Mía, Vivir en el Campo, etc.
Have you written any books?
Yes, Josep Comellas and I wrote "Ayúdame a crecer sano" ('Help me grow up healthy'). I am passionate about children and their experiences of food. I want to write a second, more in detail book, using my own personal experience as a mother of two girls. We recently organised some cookery courses for parents and children with the Palma town hall, and they were a great success. The children started eating foods that they didn´t even want to try before.
How did the idea for Ametlla+ come about?
My partners, Catalina Cañellas, Bàrbara Flaquer, Dulce Feliu, María del Mar Socias and I wanted to develop a project which would protect the almond blossom season. Farmers get paid a pittance for their almonds, so they harvest them less and less and lots of the trees are abandoned. Through our product, we are applying the almond to a new use and we pay the farmers a fair price for their work. We will soon be launching an almond oil and different flavoured toasted almonds, including curry, tomatoes and Mahonés cheese flavours. Our almonds are handpicked by a farmer in Artá and they are absolutely exquisite.
In California, almonds are registered as a natural heritage.
Yes, and they were introduced to the area by the Mallorcan Fray Junípero Serra. It should be like that here too; in Japan the cherry blossom festival is a major celebration. We are working to create touristic routes for people to visit the almond groves when they are in full bloom. The visit could include a meal cooked on site amongst the beautiful almond trees. 
What is Ametlla+ and how is it used?
The Ametlla+ range consists of three different vacuum packed preparations which were inspired by old traditional recipes and which feature the Mallorcan almond and other natural ingredients (tomato and spices, parsley and garlic, dried apricots and lemon rind). They do not contain any salt, sugar or gluten and can be used as a condiment for meats, pulses, rice, pasta, fish, salads and desserts. They are very versatile and have a wide variety of uses; from preparing a sauce by mixing them with water to replacing your basic fried onions and tomatoes when preparing paella. We have been running cookery courses since the 8th of March; the best way to get to know our product is to try it.
What are its advantages?
It makes cooking easier, tastier and faster. You don't even have to use added oil; the product contains healthy fats and hardly any salt which makes it perfect for people with high blood pressure or cardiovascular diseases. It also contains all the natural goodness of the almonds, which are a great source of vitamin E and fibre as well as being antioxidant and age-defying. It is great for children as they love it and it contains an amino acid which is very beneficial for their growth.
The Ametlla+ team has been awarded a prize for its innovative idea.
The RESET prize is awarded by the University of the Balearic Islands to the best entrepreneurial project and we received a lot of press coverage on receiving it. We also took part in the Mediterranean Design competition.
Do you export the product?
It is available at delicatessens all over Spain, including the Club del Gourmet in the Corte Inglés. It is also sold in hotels such as the Portixol, La Residencia, Son Gener etc. In Germany we work with some very important points of sale and our product features in the best gourmet shop in Hamburg, where we presented a very successful live demonstration and invited the press. It is also sold in Sweden, Finland and will soon be available in Holland.
Do you run any educational projects at schools?
My partner Barbara has launched a pilot project in the "Ses Cortarades" public school in Calvia with children who are around 5 years old. The project is based on explaining our project in the following way; "From the almonds in bloom to the renovation of traditional cuisine". The children have been very receptive and they understood the message straight away including all our ideas for developing the almond industry. We promote their entrepreneurial spirit using our locally sourced products. We are expanding our projects to other schools and to The Academy School where I work as a nutritional advisor.
You never stop! Do you have other projects planned?
We would also like to publish a recipe book based on our product, videos for our website, an Ipad app, and a children's story featuring an almond as the main character.
Address details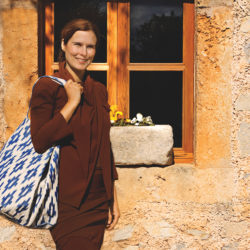 Ametlla+ de Mallorca
C/ Parres S/N (In Front of nº 80) Artà