Architects, interior designers and decorators gathered for the launch of Lluminic last night. It's the name given to the new space entirely dedicated to illumination, within Socías y Roselló's store in Palma.
Guests at the launch were treated to some exquisite canapés, freshly cut Iberian ham and champagne. After an intriguing video presentation, they were led into the new lighting design area, where 'light cocktails' were conjured. There was a great atmosphere as live music played and creatives from the industry exchanged ideas and experiences.
The power of lighting to transform a space is undeniable, whether a wow-factor candelabra over a table or discreet under-cupboard lighting. The goal at Socías y Roselló is to provide a bespoke service to their clients, offering solutions for luxury homes, apartments, restaurants as well as outdoor spaces. In addition to their Palma store, they can also be found in Manacor and Ibiza.
Address details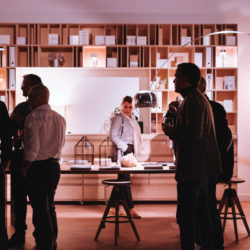 Socías y Rosselló
Gran Via Asima, 3, Palma