Architects, interior designers and decorators from all over the island gathered for the launch of Lluminic, a new lighting space at Socías y Roselló's store in Palma.
Guests at the launch were treated to exquisite canapés, freshly cut Iberian ham and glasses of champagne. After a video presentation, they were led into the new lighting design area, where 'light cocktails' were made. Live music contributed to a vibrant atmosphere where creatives from the industry came together to share and exchange ideas.
Whether it is a wow-factor candelabra over a table or discreet under-cupboard lighting, the power of light can transform a space. The goal at Socías y Roselló is to provide a bespoke service to their clients, offering solutions for luxury homes and apartments as well as outdoor spaces. In addition to their Palma store, Socías y Roselló can also be found in Manacor and Ibiza.
Address details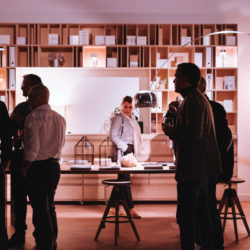 Socías y Rosselló
Gran Via Asima, 3, Palma