Ensconced in Palma's ever-evolving neighbourhood of Santa Catalina is the workshop and private showroom of acclaimed Spanish jeweller Alma López. Her jewellery brand, La Morenita, is known for its delicacy of design and fusion of materials, and the environment in which it is created and displayed feels like a natural extension of its decorative craftmanship.
The creative mind behind the space is Alma's sister, interior designer Hada López, with her vision executed by Alibaz Construcción. She has employed a fluid palate of warm gold and crisp white, echoing the shimmering metals in her sibling's work as well as the exposed marè sandstone of the original building. Art Deco elements feature in hand-carved oak detailing, as well as in the herringbone parquet flooring that flips from traditional wood through sections of white and gold, and playfully climbs walls.
As expected from a showroom, lighting plays an important role in the space – both natural and artificial – utilising a combination of discrete spots and backlights with a striking arachnoid lighting feature. The building is also part of Alma's own home, so there is a intimacy in the space too, which includes a secluded terrace where the jewellery designer takes breaks amongst ornate hydraulic tiling and plentiful plant life. Various objects scavenged from flea markets around the island – animal skulls, demijohn bottles, antique printing trays – break up the clean lines and add unexpected vintage elements.
The result is smart, sophisticated, and stylish, but with a relaxed sense of fun that is sure to foster the perfect environment for inspiration and creativity.
Address details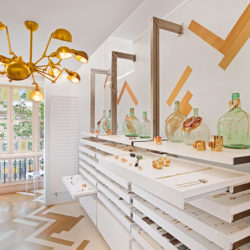 Alibaz Construcción
Colomer, 6. Polígono Son Bugadelles – Calvià