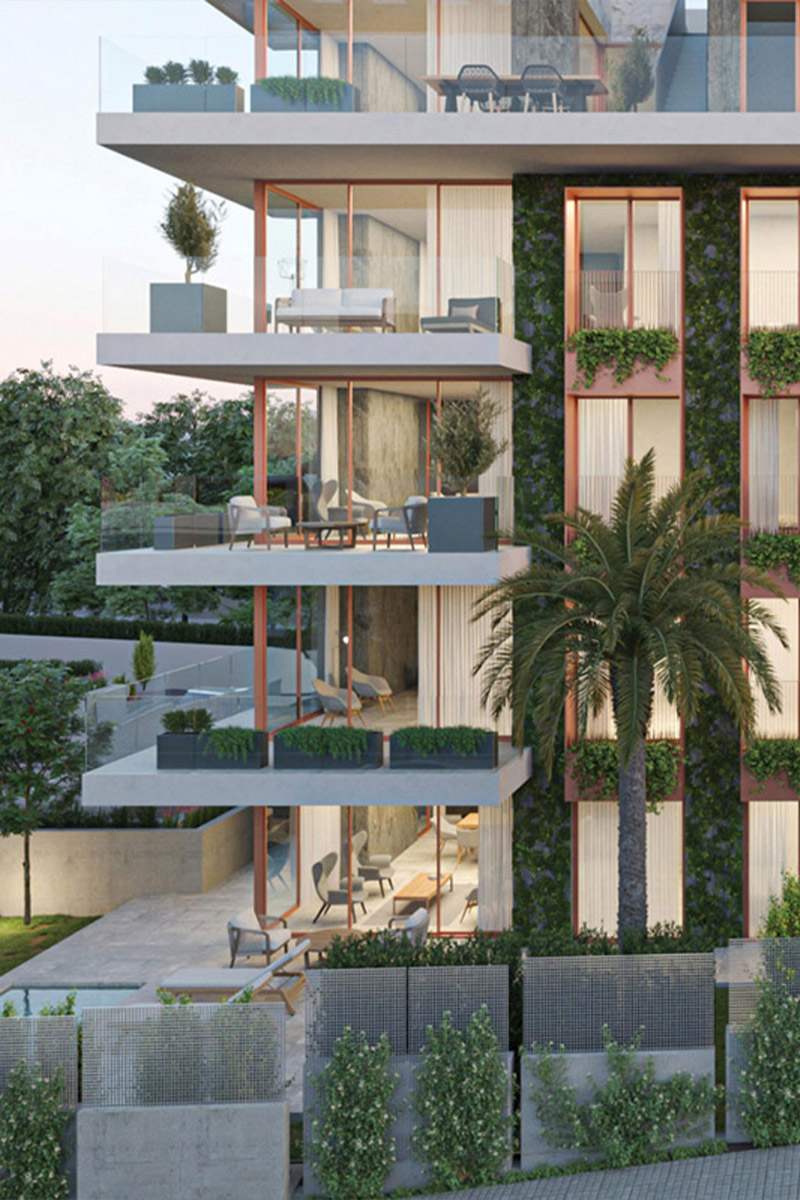 It's been over seven years since The Sunday Times declared Palma the winner of the 'Best Places to Live in the World'. Citing everything from its "picturesque old town, beaches within walking distance, and a great climate" it was a sparkling endorsement that went to confirm what those living here already knew. However, the 2015 article also asserted that "most foreigners buy flats in one of Palma's converted historic palacios," which certainly no longer rings true today.
"Largely driven by the pandemic, clients are increasingly demanding large outdoor spaces," explains Antuan Vizcaíno, a consultant with Palma-based property developers Marcapital, "as well as a feeling of spaciousness inside the homes."
SEEKING BALANCE
Despite the disruptions caused by Covid, Palma has bounced back confidently, with building projects continuing to spring up all over the Balearic capital. And areas that were previously considered 'less fashionable' are providing the perfect neighbourhoods for luxury-level real estate that offer this more spacious community-style living. While some second-home buyers are still drawn to the undeniable charm of the city's historic centre, more are starting to look towards developments that provide a more balanced lifestyle.
One such development is Acantos. It's set on a road that winds through the quieter residential neighbourhood of Son Dameto, located on the north-westerly fringes of Palma, and just inside the cintura ring-road that encompasses the city. Positioned close to infrastructure such as schools, hospitals, and parks together with easy access to both central Palma and the rest of Mallorca, its location is ideal for those thinking of making a more permanent move here.
SPACES TO BREATHE
While Mallorca already has its share of community apartments, Marcapital, who are behind the project, describe Acantos as a "new concept of residential complexes" and "homes with spaces to breathe". Responsible for the design is the architectural studio of Alejandro Palomino, which has long been setting the benchmark for luxury-level development on the island. Their design seeks to "facilitate the union and dialogue between families" with spacious rooms and layouts that shorten the distance between indoors and outdoors, and terraces that form part of the living-dining rooms. Extensive green communal areas also provide a sense of space and nature, while encouraging socialising around the gardens and swimming pool.
"This is the beginning of a new direction in Mallorca," explains Enzo Belmonte Galván, Managing Director at Palomino Arquitectos, "as the construction style is geared towards high-end clientele seeking the greatest possible peace without losing the luxury of being in the nerve centre of the island." He stresses that the project is one of creating also ecologically sustainable environments. And as you can expect from an Alejandro Palomino project, the result will be stunning aesthetically, too.
With its wonderful climate, rich history and cosmopolitan character, those realising that Palma makes for an excellent place to live full-time will only continue to grow. Developments such as Acantos, and many others like it, are adding to its appeal as a year-round destination, and firmly maintaining its position among the 'Best Places to Live in the World'.
Text by Leon Beckenham | Renders provided by Palomino Arquitectos