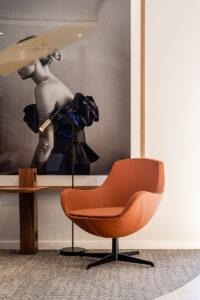 Since the advent of mass tourism and low-cost carriers, the glamorous Golden Age of flying is long behind us. But there is still a corner of the aviation industry that has maintained its air of glitz and exclusivity, and few things are more synonymous with the high-life than travelling by private jet. So when it came to revamping the Mallorcair FBO private terminal and central office, who to approach to head up the project but top Palma-based design studio Marga Comas.
An air of tranquillity
Despite its association with ultra-luxury travel, the main concept behind the project was "feeling at home", Marga Comas explains. And smart-but-easy-going spaces are indeed artfully designed to make the client feel just that. Light-wood walls in different shapes and sizes create visual enclosures that define different areas, providing a sense of intimacy. Carpeted floors also absorb external noise, further contributing to an atmosphere of calm and tranquillity.
A soothing neutral palette also provides the canvas for pops of colour from the likes of retro-style armchairs upholstered in orange-brandy leather. A choice selection of contemporary artworks from Gallery Red, some by local artists, adds to the laid-back lounge-like feel, too. Lighting, as well, was carefully designed to make each individual space shine, but bathe the whole in a bright-yet-warm glow. A trio of bird lamps perched above the reception desk add a fun, playful touch while clients check-in.
Room for all
And for the crew, a large double S-shaped sofa forms the centre of their dedicated area, with various tables and armchairs where cabin staff and pilots can relax and watch the large screen TVs. There's a separate more work-oriented area, too, with a kitchenette, dining table and high-desk space with printer and computers.
"The result is an airport terminal where everyone can have their own space for privacy and relaxation," Marga modestly concludes. It's an assuredly realised project that successfully combines comfy home-like spaces with a good measure of timeless glamour that flying private still demands.
Text by Leon Beckeham
Photos by Tomeu Canyellas
Address details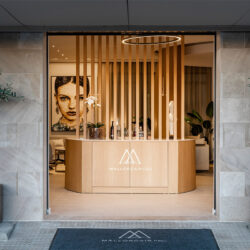 Marga Comas
C/ de Tous i Maroto, 4, Palma