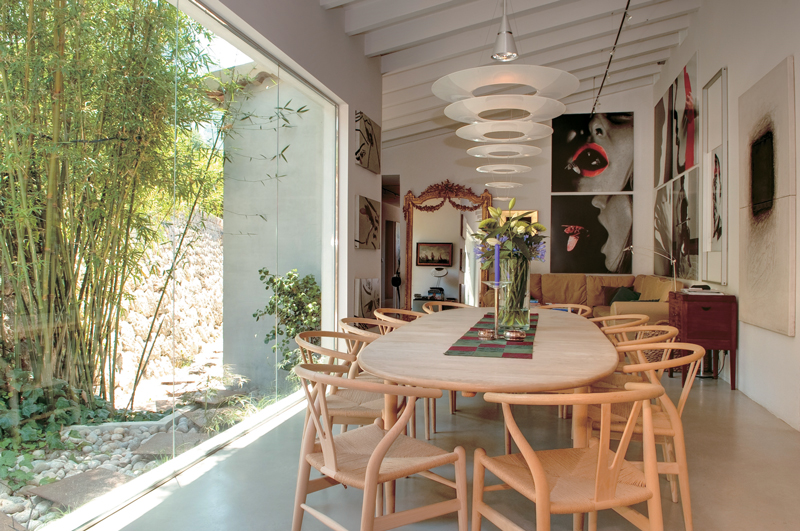 Welcome to the hillside home of an artist whose work has been exhibited around the world, is included in private and corporate art collections, and even owned by royalty. Francesca Martí – the renowned Sóller-born photographer, painter, sculptor and installation artist – lives and works here at Pla des Bisbe, with its breathtaking views down towards Sóller and of the neighboring picturesque villages of Biniaraix and Fornalutx.
The home of Francesca and her engineer husband Gunnar Dahl (Swedish-born to Norwegian parents) has an interesting history – parts of the property date back centuries. As its name reveals, it was once owned by a bishop. It's also been owned by orange traders in Valencia and was used to house their agricultural workers; the building that is now Francesca's spacious studio still contains the old tafona, or olive press. "Gunnar and I felt the history of the place," Francesca explains. "It's magical for its situation and the sunsets. It's private, but we're close to village life and still integrated with nature."
After buying the property, her workload – shared with Roland van Dinten, who administers the business side of the artist's life – was intense: her exhibition Soul – awarded first prize in the 10th International Biennale of Cairo – was on tour, visiting Egypt, Israel and Amman. Work on Pla des Bisbe began with the studio, then continued into the house – the artist linking the two buildings in both physical space and "in my soul." It became a two-year project, which incorporated many elements from nature, and they've now lived there a year.
We sip coffee at one of two adjacent glass topped rectangular dining tables. The base of each is made from neatly stacked old railway sleepers incorporated into an iron frame. They are striking Francesca Martí pieces: furniture as art. And there are more delights to come . . . Her creative stamp is also on the efficient modern kitchen, where she enjoys cooking for friends as a form of relaxation (others are reading, walking and being by the sea). Centre-stage in this hub of daily living is her unique kitchen storage unit: a row of old wooden orange boxes (found in an outbuilding) topped with a restored piece of aged wood. The initials FM stencilled on one box aren't hers but, coincidentally, those of the orange trader.
Previous owners had added a 1950s extension – now transformed into a glorious light-filled space with the feel of a modern loft: family life (a son and daughter are also here) happens on this ground floor (bedrooms and an office are also downstairs). Furniture is light and modern and, not surprisingly, with Scandinavian influences – such as the Danish dining table and chairs, and contemporary tiered light fitting. The adjacent lounge area is dominated by two large creamy-white sofas, between which sits a talking-point coffee table: Francesca took neat stacks of opened old encyclopaedias and topped them with a sheet of glass. ¡Venga!
Along one wall, ground-level modern grey storage cubes house numerous coffee-table books – including volumes featuring some of her favourite artists, including Shirin Neshat, Wilfredo Lam, Anthony Caro (one of his sculptures is in the garden) and Erwin Olaf. Jonathan Turner, the Australian curator, is this month organising an exhibition with Francesca and Erwin Olaf in Rome, based on the theme of diving as a conceptual sport, and on the iconic figure of Matt Mitcham, the Olympic gold-medallist, in particular. Interestingly, Matt inaugurated the pool at Pla des Bisbe last year!
Floor-to-ceiling glass has replaced the back wall, looking out at a narrow passage running between the house and a high stone wall that's part of the sloping land's terracing. From one of the sofas, one sees only stone – no greenery – and the effect of the water feature that's incorporated into the wall. "It's very relaxing," Francesca says. "When it rains, it's magical – like a meditation."
Original elements have been retained in each room. Here, two ornate gilt corner tables. In the small adjacent library, an old round table – clad with heavy full-length cloth – sits by the window (hung with typically Spanish old brocade curtains). A further room – with a staircase – was formerly used as a small chapel; they have permission still to hold weddings and mass there. In striking contrast to the old dark wooden altarpiece is a modern canvas torn through its centre. On its own, it's dramatic enough, but when one of the several video projectors in the house whirrs into life, it becomes an extraordinary installation. Projected onto the canvas, a handsome black man (from Sierra Leone) is sinuously emerging from the tear in the canvas. This is part of Francesca's Tears project, "expressing the tears in ourselves, inside and out," and inspired by her visit to the Jordanian city of Petra. It's hard to tear oneself away. For most of us, a fly buzzing around is merely a nuisance but, for Francesca, a humble household fly inspired her fascinating multimedia installation, Music and Fly; some of the component photographic canvases hang in different parts of the home.
A second, rather more formal, dining room is used in the winter for "the celebration of art". It's certainly a celebration of Francesca's life as an artist: the walls are hung with works illustrating her creative journey of more than 20 years. In a quiet corner, a row of her bronze sculptures of flies is mounted on the stone wall. Nearby, the family's Siamese cat takes advantage of her convalescence (she's just been spayed) for an illicit nap on another of the home's comfortable sofas.
Directors of museums from around the world, writers and musicians are among their regular visitors (staying in the upper floor bedrooms). "Everyone feels so well here, it's peaceful and energising," says Francesca, who mentions several times the importance of "feeling well" to the process of creating her powerful works of art. This isn't just an exceptional property and home – on the island Francesca calls "a little paradise in Europe". It's also a place to nourish body, soul and the artistic process, and that's evident in both Francesca Martí's youthful physical appearance and her creative output. What more could an artist want?