Francesca Martí was born in Sóller where she lives and works in her studio at Pla des Bisbe, with its breathtaking views down towards Sóller and of the neighbouring picturesque villages of Biniaraix and Fornalutx. The tireless artist emerged on the Spanish art scene in the early 1990s, her work was soon being featured in several international galleries, and she participated in different art fairs on a global level. Francesca Martí creates her artworks with all possible media, with painting, sculpture, photography, video, performance, multimedia, music, etc., using different technical equipment.
Her art looks at the issues facing our society of today. She loves to create artworks that do not give answers and force spectators to be interactive, to finish the artwork in their own minds.
Over the past two decades the multi-talented artist has also published several books. Her latest work is a 128-page full-colour retrospective catalogue which features her exhibition, Transformation, at the Danubiana Meulensteen Art Museum in Bratislava.
The stylishly designed catalogue was printed and bound in Palma and contains essays by the two exhibition curators, Pilar Ribal (Mallorca) and Kees van Twist (The Netherlands), plus additional texts by other international collaborators. It was partly sponsored by the Balearic Island Government, and closely follows the themes and subjects explored by Francesca in her forthcoming retrospective, featuring more than 100 works produced from 2000 until "yesterday".
Place
The square in Sóller, and going down there on my bicycle from the studio …
Person
A Dreamer, a Believer, someone who, like the names of my two recent series of sculptures, looks to the future.
Role Model
I admire the efficiency and many other aspects of my colleagues and friends.
Book or Song
Wild in the Wind by David Bowie
Artist
Those who can express their true personal thoughts and feelings with freedom.
Memory
As a young girl, the smells as the seasons changed.
Dream
For a better, more balanced world.
Time of the year
Every moment, every day, every year, is a celebration, but the seasons are also marked by what grows in my garden – roses, avocados, almond blossoms, oranges and figs …
Emotion/passion
To keep the capacity to feel in love …
Desire
Chocolate in front of an open fire.
Address details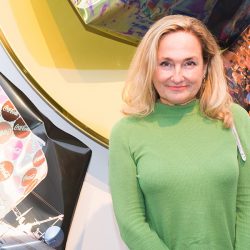 Francesca Martí