The story of FIL Suites in Palma is like a piece of fine artisan tapestry. In the stitches of its former identity as a textile factory, these exquisite apartments hold an intriguing past. Upon entering, we walk under a Mallorcan stone archway to a room laced with hand-painted designs from the late 18th century. We ponder over what secrets fill these walls as we proceed through to a medieval, open court patio. There, Toni Oliver Pons, partner of FIL Suites is standing, in a manner that is warm and gracious. He is a man with plenty to tell.
Revived as a bespoke collection of 21 apartments and 10 rooms, the building is home to a wellspring of historical features which Toni signals to, caressing the air in all directions. He traces the wall in the reception and talks of the meticulous attention to detail required to restore the building to its original design. We follow his line of touch to a course of faded red and navy pattern covering the wall. What at first is seemingly just decorative is revealed to be the very hand-painted templates that were replicated in the factory's heyday. There in the flicks of dried paint is the basis for much of Mallorca's traditional upholstery, the birthplace of what we now see on cushions and bags everywhere.
We take the stairs which curves the corner of the patio, allowing a moment to view the restoration from a new height. Elaborate cuttings and edges adorn the walls like shadows, where the remains of a checkered past still linger. Stories of war-torn Mallorca encircle this area, where now an old olive tree stands, timeless as the open sky above it. A cool air hits us and Toni smiles when we ask about winter here. What was once a case of layering-up and battening down the hatches is now a step across underfloor-heating and into a plush duvet set. We reflect on this comparison, stepping into one of the apartments in astounded silence at quite how far modern-day luxury has come.
We stand with Toni from one of the apartment terraces, overlooking the quaint square of Plaza Raimundo Clar where FIL Suites resides. He points out the community that he has helped build here, talking of local businesses like family members, rolling off their talents, from who sells the best orange juice to plate of tapas. We go through each one and can't help but hover over the restaurant La Vieja, which has in its own right, brought excitement to the square. Amongst trees and benches there is a buzz about the place which Toni insists is nothing like it was before. Once an empty-shell, Toni presses that it was community-spirit that brought this part of Palma back to life. He opens his arms at the view, and talks of the positive effect FIL Suites is having on the area, bringing visitors from all across Europe to this little corner of historic Palma. As he brings his hands to a close, two words part his lips "…orange juice?" Who could possibly decline? We cross the square and head to Café La Fabrique D'Art where true to his word, the taste of Mallorca touches our lips.
Toni's heart beats for his city, and for that, there is a familial warmth to FIL Suites. It takes on a purpose, weaving together comfort and luxury, past and present, visitor and local, which, considering its history with a needle and thread, seems entirely fitting.
Address details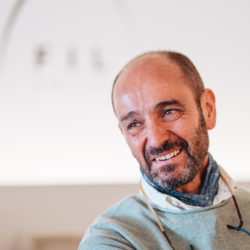 Fil Suites
Carrer de la Ferreria, 14, Palma