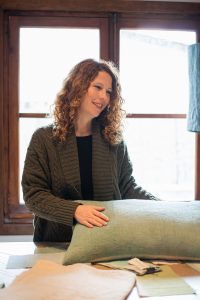 Not only is their new home called Espanyolet but they also named their textile and ceramic studio after the neighbourhood on the outskirts of Palma's Santa Catalina district. Melissa Rosenbauer (39) and Thomas Bossert (50) arrived here in 2015 after a trip around the world, rented two small apartments on the upper floor of a simple, white house and combined them to form a live-in studio. When the two are at home, the front doors are open and they feel as though they are living in a loft. "We live on one side and work on the other," says Thomas.
At the age of 26, the graphic designer left his home town Essen to travel the US for a few months and do internships there. That trip turned into a 20-year long stay. In 2012, he met Melissa, a businesswoman who worked in the same company in Brooklyn. In New York, life is electrifying, but also exhausting, they both know. "Everyone lives for the weekend," says Melissa Rosenbauer, who has a German-sounding surname but was born in New Jersey.
The couple decided to take a year off and look for a new place to live. They sold their belongings (furniture, clothes, and an apartment in Brooklyn) and started a journey that was to consist of creative work instead of beach holidays. In Bali, they rented a hut for two months, Melissa attended a batik course, and Thomas learned from local people to make pottery.
"Instead of creating ideas, we created something with our own hands, which was incredibly satisfying," says Melissa.
They also spent several weeks in Thailand experimenting with Shibori, a centuries-old dyeing technique from Japan. In Namibia, the third leg on their trip, they tried out traditional wax prints to colour woven fabrics.
In Mallorca, they use the techniques and the joy of experimenting for their own fabric collection. "We didn't want to dye normal cotton cloth," says Melissa. On flea markets, they came across hand-woven fabrics from old fincas – those blankets of a blend of linen and hemp adorned the marital bed as throws in former times. Use and time have left their own marks in the up-to-100-year-old fabrics – there are patches, decorative stitching, and manually embroidered monograms.
"For each fabric, we first outline a range of colours that go with the age and tissue," Thomas tells us.
Espanyolet
Espanyolet
Espanyolet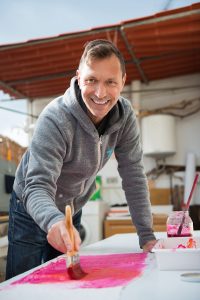 Different colours are mixed from pigments – currently very trendy are, for example, blue-green bottle tones – and then thickened with algae powder. After that, they apply the coloured paste in long strokes with the brush, to be able to control the intensity of the colour and the flow, while working with or against the woven structure. In the summer, the colour pigments dry on the roof terrace in the sun and are next set in the washing machine. The result is a fabric that looks both antique and fresh and modern. The materials are further processed into bedspreads, pillows, and upholstery sleeves and are sold online to Barcelona, Stockholm and the USA (80 to 360 euros).
"Mallorca and its colours inspire us," says Thomas. When he discovers a beautiful wall of a house somewhere, with flaking paint colours faded from the sun, he takes a photo and tries to reproduce the hue in the studio. There is a colour palette from which customers can choose and put together their own collection. "But it's impossible to repeat exactly the same colour twice," says Melissa. Each fabric is a work of art and every pillowcase, every bedspread, is unique. In the future, the couple would like to design textile and furniture concepts for interiors and show the artistic effect of their colour paintings. A few weeks ago, they developed a sitting area for a customer with paddings hung off the wall, which were covered with their own fabrics.
Additionally, Thomas complements the fabric collection with a series of ceramics (70 to 150 euros). He shapes the clay in the studio in Palma and subsequently has it fired in Pòrtol. Among the first pieces are serving trays, in which cloth plays a role again: The structure of old linen fabrics is baked into the surface. Shades of black, brown or white shimmer through the glaze in some places and provide the trendy vintage effect. The small collection is already sold out, because photographers love the small plates for taking pictures of food. A new range of bowls and serving plates is being processed, also inspired by the island: with the roughened structure of the clay and the black and white glaze, they resemble Mallorca's steep cliffs with their rocks washed out from the spray. Thomas also wants to design small-format coloured tiles in the Espanyolet style, which create visual interest on the wall behind the sink in the kitchen and the bathroom.
Visit: www.espanyolet.com