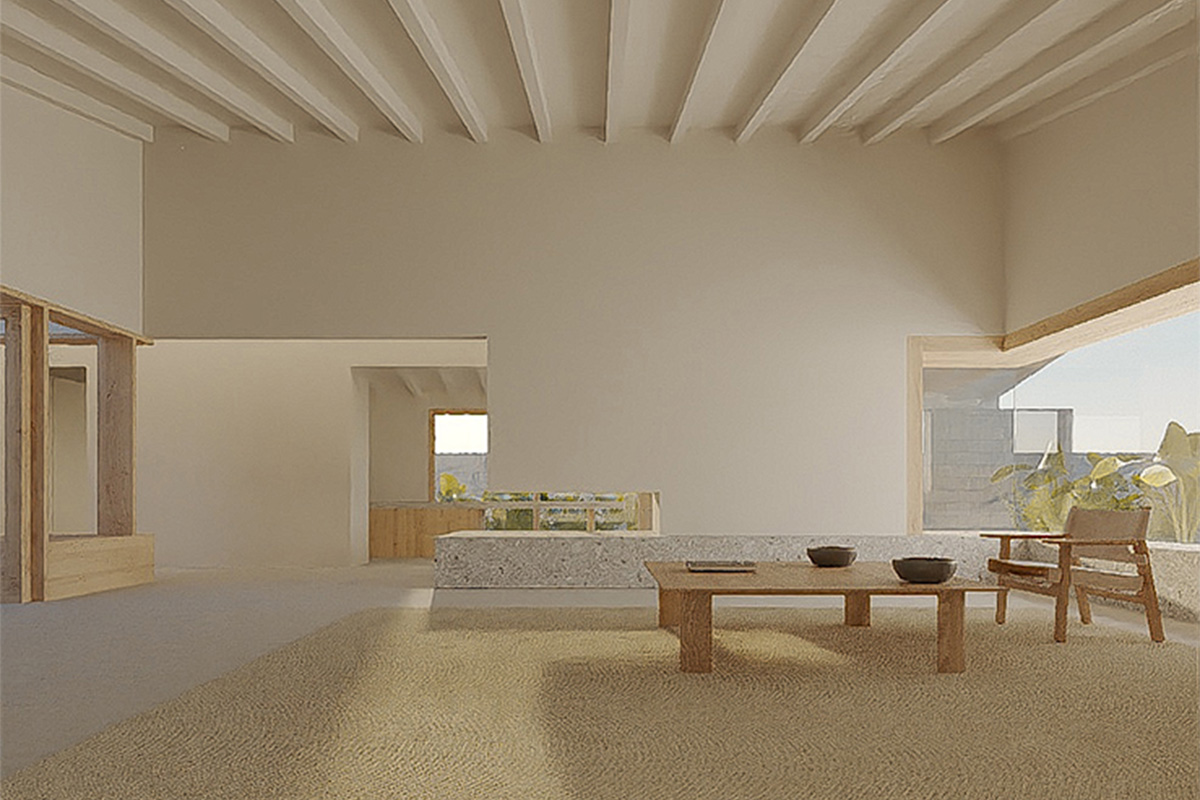 Frequent visitors to Palma de Mallorca might know the city like the back of their hand, but there are some hidden pockets still to be discovered. Even on the bustling street of Calle Sant Feliu, where Rialto Living and Gerhardt Braun Gallery are situated, exists a space rarely frequented by passers-by. Residents Adrià Clapés i Nicolau and Joan Pizà Roca know this feeling all too well, but are decidedly calm about it. What exists past the doors at number 17 is a place of conscious work, where Adrià y Joan can design harmonious homes in the quiet of the city.
Materials vs design
Born and bred in Palma, Mallorca is Adriá and Joan's natural creative habitat. They both studied in Barcelona and then left for countries like China and Mexico for assigned projects. However, the idea of building for their island was too difficult to part from and within a few short years the two were back in Mallorca. "We design using the most organic materials, opting for the most sustainable option," says Adriá. "What we use to our build our homes is just as important – if not more important – than the design itself."
The Old People's Home in Marratxi is one such works that characterise their effortlessly chill portfolio. Breathable materials have been selected every time and where possible, extracted from the local terrain. "It's surprising how many architects will build with materials that are harmful to our health. It might be easier, but it's not morally right," says Joan. He lists several toxic materials like lead, PVC and various types of arsenics. "If we know they're bad for us then that alone should stop us from using them." Adrià agrees, "Mallorca promotes a healthy lifestyle so it's natural that our homes should reflect this too."
Working together
Busier than ever, Adriá and Joan are now working on the reformation of a 14th century finca in Selva. "This the kind of a project we love – reforming an old Mallorcan treasure, keeping all its charm but consciously reforming it at the same time," says Adriá. "It's about the people too. In the case of this client, he really cares about preserving Mallorcan history." Working hand-in-hand with their clients is something Adrià and Joan share with their neighbours on 17, Calle Sant Feliu. There are just a handful of artisans working in the space which include ceramicist Paparkone and mosaic artist Mozaikon. Fittingly, The School of Consciousness, Sadhana Works, is also a much-loved player in the vicinity. "We are like a big family here," says Joan, "collaborating and connecting is what we live by."
Together, the business on Calle Sant Feliu exist like a cluster of mini worlds – to inspire, lead and create good things for Mallorca. A place from which Adriá and Joan can feel happily at home but with the necessary energy to make change. Not just in how homes are built, but more importantly what materials they're built from.
Text by Rosie Foot
Photos by Jonatan Barzola
Address details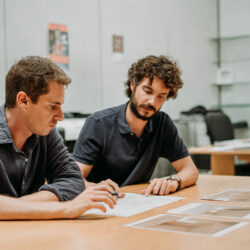 Architects Adrià Clapés & Joan Pizà Roca
C/Sant Feliu, 17, Local 13 07012