Wine is sunlight, held together by water' said Galileo Galilei, and just as sunlight shines into every corner of our blessed Mediterranean island, so does Catavinos spread the joy of wine.
"Our team is united by passion for wine" says Vili, the managing director of the company, "and once you feel sensitivity for wine, it stays with you throughout life."
Those whom they help discover this fascinating world gain the same sense of wonder and appreciation. What is as refreshing as a chilled glass of sparkling Muscat on a warm summer's evening is the complete lack of pretence in the company's approach. His team consists of 15 people and includes several learned sommeliers. As happy to advise on the merits of the smallest jewel as they are to explain the qualities of the greatest prestige brand, there is no snobbery, as they seek to bring the exquisite enjoyment of wine to curious people everywhere.
You'll find everything from 3 euros to 3,000 euros on its endless shelves, which contain more than 3,000 different types of wine, without neglecting the most prestigious spirits available on the market today. Price-to-quality ratio at Catavinos always represents honest value. Its own line of Mallorcan wines, A Punt, offers all the delectation you'd expect from an outfit which counts the president of the Balearic Sommelier Association amongst its numbers.
fg_lazyload
V. Vili, R. Flores, J. Pons & J. Cabrera
In 2001 two partners saw the potential for something special on Mallorca bringing together all the best elements of wine. For more than 15 years, Catavinos has been awakening real interest in viniculture through tastings, events, courses, and collaborations with various restaurants.
Belonging to the Catavinos club has always meant accessing an atmosphere of trust and friendship. In 2016, Catavinos is the neurological centre for wine on the island. They are, needless to say, an enthused and dynamic team, whose contentment at working everyday with 'the nectar of the Gods' is tangible. After all, what other industry can say it sells bottled happiness, civilisation, communication, and pure pleasure? Mallorca is synonymous with the good life, and with wine – like sunshine – the two go hand in hand.
Address details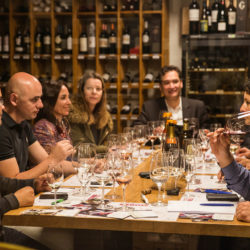 Catavinos
C/ Poima 6, Pol. Ca´n Valero, Palma de Mallorca