Writer, broadcaster, lecturer and curator Dr Suzanne Fagence Cooper delivered her lecture 'Pop Goes the Artist' on behalf of The Arts Society Mallorca. Members and guests came together at Son Muntaner in Son Vida to hear the scholar discuss works of Pop Art by Andy Warhol and Bob Dylan.
The Arts Society Mallorca who "bring people together through a shared curiosity for the arts" provide members the opportunity to hear expert lecturers share the specialist knowledge. Chairman Tim Robinson and the team are delighted by the response to the society and welcome all art lovers on the island to join them at future events.
The season sponsor for this year's programme is Blevins Franks who are proud to support Mallorca's art community.
For more great lectures by The Arts Society Mallorca visit: www.theartssociety.org/mallorca
Address details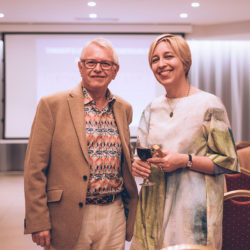 The Arts Society
8 Guilford Street, London WC1N 1DA