Úrsula and her sister Lina are the third generation of Mascaró, a company founded in Ferrerias, Menorca in 1918, as a workshop for handcrafted ballet shoes. In the 50s, Jaime Mascaró, the second generation, transformed the workshop into a factory manufacturing high-quality designer footwear, thereby setting in motion an expansion process which culminated in the opening of their own shops in the 80s. Lina and Úrsula, took over from their father at the end of the 90s, and began expanding the brand into international markets, as well here in Palma de Mallorca.
The group currently has 90 of its own shops and over 5,000 multi-brand shops the world over. It employs 500 people directly and indirectly and manufactures around 500,000 pairs of shoes a year. Its three main brands – Jaime Mascaró, Úrsula Mascaró and Pretty Ballerinas – are found in all the most important shops across five continents. "We are very happy with our current position, despite the difficult financial situation. All our brands are profitable in their segment of the market." With over 100 collections presented, the group is planning a big party on Menorca to celebrate a century of operation.
Úrsula is in the enviable position of enjoying every day of her work. "My sister Lina and I have always been very involved with the family business and grew up learning the trade at the factory during the summers. I didn´t see myself working there so I left for London when I was 17 to study interior design. I decided to try creating my first shoe collection when I was 21 and it worked, so we kept going."
Pretty Ballerinas started as a game between her and her ex-husband, David Bell. They wanted to do something special with ballerina pumps – Mascaro's original product.
"It was great fun: we would sit together after dinner and play with the logo, the colours, the concept . . . it was all very natural and spontaneous." They still work together: "David is my best friend, my family."
Key to the shoes´ success is the balance between all aspects related to production and sales. The group is obsessed with first-rate materials and always puts their customers´ wellbeing first, before any market trends – a fact which makes them different to other brands. "Our shoes are not décor pieces, they are made to be worn every day," she explains.
Their outstanding team at the factory and in communication and public relations has been fundamental. Their designs have seduced Queen Sofia, Princess Letizia and Princess Beatrice. Also spellbound by the ballerina flats are actresses like Katie Holmes and her daughter Suri, Angelina Jolie, Lindsay Lohan and celebrities such as Olivia Palermo and models Nieves Álvarez, Elle MacPherson, Claudia Schiffer and Kate Moss – "who is capable of sealing the international success of a brand."
Their next challenge is to grow in Asia, where they have shops in Tokyo and Hong Kong and will soon open in Bangkok. "I would love to open an Úrsula Mascaró shop in Munich. And, 10 years from now, to have 50 more shops worldwide. But I am not obsessed with the future, I live in the present."
Her inspiration can come from anywhere: a song, a painting, a film, a trip; the important thing is to work hard on developing it later. "For me a shoe is the key element of any outfit. You can be wearing something very basic, but if you are wearing good shoes, everything changes. I always use my shoes, except when I am exercising. It wouldn´t be logical to use any other shoe."
How does it feel to have achieved such great success? "I am proud that we have been able to keep all production in Menorca and of all the people who work with us every day and share our dedication to the project." Asked what she would do if she stopped making shoes, she laughs: "I would rest and set up a small bar on the beach."
This Mascaró woman is strong-willed, cosmopolitan, sexy and feminine. She combines her professional life with family and could be having breakfast in Madrid or Mahon and dining the next day in New York, London or Paris. She is a woman who likes fashion but is not a slave to it. This beautiful brunette woman thinks Mallorca is wonderful and she has some great friends here.
When Úrsula is not working she dedicates all her time to her children. She likes exercising, cooking, setting up meetings and, most of all, loves "a good siesta". She would like to have more time to play the guitar. Her favourite places are Ibiza and New York. For her, Menorca has a special energy and her life goes by just like any other working mother of three: Jaume, David and Úrsula. Asked what she wants from life, she answers without hesitation. "I don´t want anything in particular, life can bring me what it will and I will choose."
Address details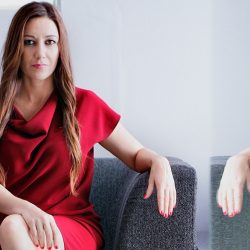 Pretty Ballerinas
Passeig del Born, 6, Palma