Sybilla Sorondo Myelzwinska was born in New York in 1963. Her father was an Argentine diplomat and her Polish mother, a painter and fashion designer in the '60s. She died when Sybilla was very young. At the age of seven she moved to Madrid, and had previously already been to Mijas (Málaga) on holidays.
"I remember coming to Spain every summer and feeling free, playing with the children of the village, with the animals in the haystack, running around between fig and lemon trees – it was a great contrast to New York and living in Mallorca has connected me directly with the sensations of being a girl again," she tells us.
She never studied fashion, but from an early age spent hours rummaging through piles of clothing on markets, looking for something special. "My parents lived incredible lives around the world and they had closets full of stories to learn from," she adds.
At the age of 17 she was an apprentice at Yves Saint Laurent and at the age of 19 she set up her first workshop in Madrid. She felt supported by the expert hands of traditional dressmakers. "They were my true teachers," she exclaims affectionately.
Sybilla wanted to make unique pieces but Alberto Guardione took her to sell to Biffi, Bergdorf Goodman, and Victoire. In 1989, the Zucccoli decided to produce her, and she appeared in Vogue, Vanity Fair, Glamour, and The New Yorker. She also created a perfume for Shiseido; Louis Vuitton commissioned her to design a purse; she developed the Jocomomola for Japan; presented fashion shows in Madrid, Paris, Milan, and Tokyo and, after 20 frantic years, decided to stop.
"I needed to think about life and charge my batteries. I dedicated myself to projects related to agriculture, education, and sustainability. We created the 'Fabrics for Freedom' Foundation, dedicated to the other side of fashion: who makes it, with what material, what impact and positive alliances can be created, and alternatives can be offered."
She adds that "The new shop in Palma is a beautiful and open place, where I can show my collections without rules. It is full of unique and flattering pieces, surprising, easy, with exciting colours and exquisite materials, winter and summer together, made-to-order garments. It's an experiment. There will also be items for the house: carpets, hydraulic tiles, glass, and other products developed with Mallorcan artisans. In the back, there is a room where we hope to hold conferences, projections, dances, and concerts."
Sybilla beautifies any woman. Her clients of 20 years ago still wear the old pieces. She manufactures in Spain and Italy and has a weakness for cashmere and silk because it regulates body temperature and odour, and provides a feeling of serenity.
She just opened a store in Taiwan and plans to open Pop-Up stores in New York, Miami, and Madrid – "each one is a celebration," she says. Regardless, discovering Mallorca at the age of 16 changed her life. Her strong connections with the Tramuntana mountain range keep dragging her back.
"I have many projects. One about Mallorcan food, a wine for Japan, and our olive oil. I am excited about the project of the foundation 'Education for Life', which organizes an annual meeting in Pollensa and introduces proposals that are generating changes. I am involved in the design of an Eco-Zone in the Dominican Republic and I would like to be able to do something similar here.
"She is famous for being a shy perfectionist but, to seduce her, a sense of humour and some wit are enough. She loves people but recharges in solitude, in nature, and savouring organic products. "I love the power of food." She reads Pablo Neruda, Virginia Woolf, and scientific texts about the brain, the movement of transition (transition towns) and permaculture.
"The last novel that has captivated me was 'A Tale of the Time Being, by Ruth Ozeki,'" she says. She listens to Soul, Funk, Blues, Bach, Saint Colombe, and Baroque music. Her favourite flowers are helioborus, an endemic variety of the Tramuntana. And she confesses that her house "has something of a mouse hole". She is inspired by the painters Matisse and Milton Avery, and the Parisian architecture of the 1930s.
I would like to "find a partner who will give me security and help me to be better at what I do", but also dedicate myself exclusively to dancing for a while. "It's a pretty eccentric idea," she confides jokingly.
Address details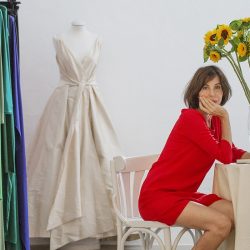 Sybilla
Carrer de Sant Feliu 12, Palma