Women are truly strange creatures. Take the way that they come up with new ideas, to turn even the oldest principles upside down. For example: For every normal-minded man, vines produce wine – served in a glass. Not so for Bibiana Casas. The Catalan artist tends to wear the vine as earrings or as a necklace – a piece of filigree jewellery workmanship, created from the woody stems of withered vines.
The idea came to the 31-year-old Catalan's mind about four years ago, while making a trip to Argentina with her then-boyfriend and now-husband Jaume Mesquida – director, and descendant of the founder, of the eponymous winery in the Mallorcan village Porreres.
"In some remote area I got to know a farmer who produced small works of art and jewellery from wood and other natural products. He left the natural growth of the materials unchanged, the way nature had made it." Casas was so fascinated by this technology that she decided to quit her job in a media agency in Barcelona and set up a studio in the attic of an old-style villa in Porreres. The plan: creating jewellery inspired by Mother Nature. "In Argentina I had already thought of using these gnarled, individually unique sprouts of withered vines for my work," recalls Casas. Since her early lengthy walks through her husband's huge vineyards, a remarkable collection of more than 70 bizarre and unusual pieces of jewellery has been created over the years.
Since 2009, Casas has sold the bangles, earrings, brooches and necklaces under the label "Sartcells" – a word created from the Catalan names for art (art) and vines (circells). Each piece is individually designed with silver and semiprecious stones, crystals, beads or metallic threads. They are packed in artistically designed boxes and lovingly framed. "My jewellery can also be hung on the wall," Casas says with her charming smile, which is itself a work of art.
The fact that she wants to sell her works seems astonishing, given the affection she has for them: All the jewellery that's exhibited in glass cases in the lobby of the Bodega Jaume Mesquida has individual names. For example, some bracelets in her collection are called Gran Amor (Big Love). Earrings are named Dolc somriure (the sweet smile). For the artist herself, they are each a mirror of feminine sensibility. No wonder that Casas considers her work a "journey towards female beauty". "A woman's being encompasses five elements: wood, earth, metal, fire, water. And these elements can also be found in my jewellery." Where's the connection to men, though? She smiles. "In every man there is also a woman. My jewellery should therefore be appreciated by them also," Casas says.
She is excited by the fact that women often choose a piece of jewellery that resembles their own character. It was noted that particularly spirited ladies preferred objects from the fields of fire and metal. "They then selected, for example, pieces refined with red coral, the element of fire."
However, Bibiana Casas' unique jewellery is not expensive. "I don't need to become a millionaire with my work. The pieces have a certain price, because I use special materials and I've put a lot of effort and creativity into them," the artist explains. She is not yet planning the next collection though: "I will not produce assembly-line work – being guided only by my instincts." It's just the way she loves the sea, swimming with eyes closed – and letting herself be carried away by the waves.
Her husband supports her one hundred per cent. "His confidence gives me the power to see things with different eyes." And he is as close to nature as she is – proved by the fact that the wine of Bodega Jaume Mesquida has been produced in a biodynamic way for a few years. Bibiana Casas is proud of that. "In Europe, people have largely alienated themselves from nature. In many areas of life they replace it with plastics and lose contact with their environment."
And there's not an attraction to live in a capital city like Barcelona? Doesn't she miss something? "I love living in Porreres, where life runs quietly, which suits my work very well. When it becomes too quiet, I sometimes go to the Spanish mainland, to stay there a while, being influenced by new fashion, art and cultural trends."
Her creativity, indeed, is inherited. Bibiana's grandfather was a painter and her grandmother was a fashion seamstress. She sees herself more as a child at play rather than a great artist. "Children see things completely unbiased. And that's what I also try to achieve," she says. For example, wine is just a drink for most people. She's probably the first person in the world to produce vine jewellery and vine art. Really, women are strange creatures.
Sales at Bodega Mesquida
Address details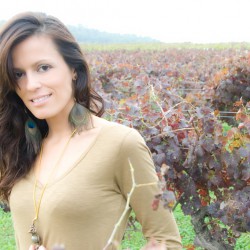 Sartcells - Bibiana Casas
C /. Vileta, 7, Porreres