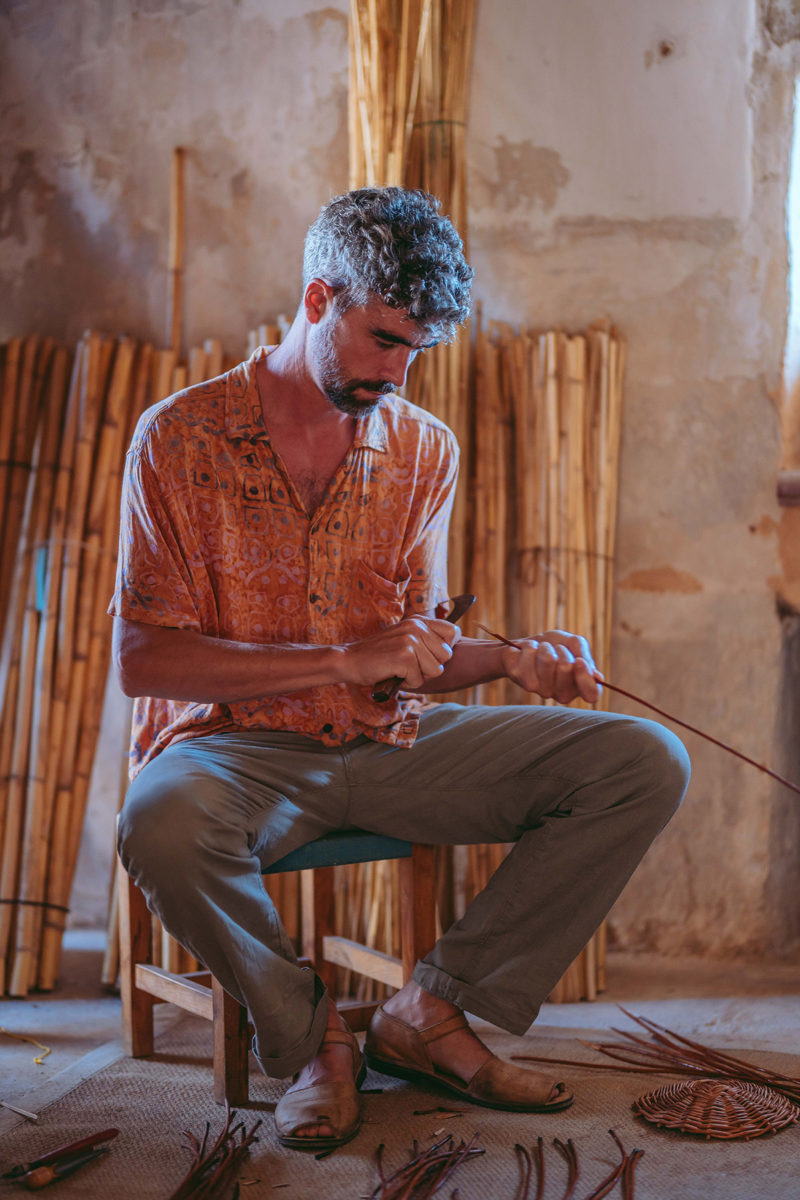 Suddenly silence fills the air. Tranquility washes over us as the mind relaxes and everyday stresses fade into the background. We drive down a bumpy track where sun-drenched fields line the horizon and the only thing heard are the soft tweets of birds. An isolated finca comes into view as Tomeu Perelló rides his bike in front, showing us the way to Son Maciá (just outside of Manacor). His two dogs Canela and Louvis bound along next to him as we shortly approach his country house, a grand estate that has belonged to his family for generations. Here Tomeu is working on a big dream. With his bare hands he wants to use the natural environment to create a refugio natural (a self-sufficient retreat). And at the heart of this project is an ancient tradition: chair and basket weaving, one of the oldest crafts in the history of mankind.
Tomeu was captivated by the skill of weaving from a very young age. In Mallorca, wicker chairs made of braided grass and bamboo have been used for centuries. Straw hats and baskets are considered everyday accessories on Mallorca, with the cesta Mallorquina particularly popular. In the 1950s, wicker work was discovered as an attractive export product and was mass-produced on the island. Women, convicts and gypsies did all the manual labour, something that Tomeu never forgets to appreciate.
Madò Maria, a woman famous for her weaving talents, introduced Tomeu to its techniques; however her teachings didn't come easily. Due to gout in her fingers, she was forced to explain every step to him through verbal communication. Tomeu spent considerable time with Madò Maria learning the different techniques, which made him feel more protective about preserving it. "My teachers today would all be well over 100 years old," he explains, "and there only very few of them left." Sadly, weaving has long since dwindled in numbers with many techniques lost forever. However, Tomeu is striving to change this, dedicating two rooms on his finca to the trade: one as a workshop and the other an exhibition space. Here he produces high-quality wicker projects, archives cultural documents and organises seminars. Although, he admits that his work really belongs in the fields where he harvests. "This is called cutting hair," he explains, handling the grass, "because the root of the plant (the head) lies under the ground and remains untouched."
Tomeu's talents were soon discovered by the Asociación de cesteros de Catalunya, where he was invited to an international basket fair. This led to social projects at schools as well as collaborations with designers and architects.
Luckily for Tomeu, woven lampshades are increasingly becoming more popular, with interior designers integrating woven elements into wall panels and ceilings. Therefore, business is flourishing and has given Tomeu the chance to build-up and reform his finca. "Now it's time to plant trees, design gardens and rehabilitate all the natural creativity at the finca so that natural cycle can flow in harmony."
He hopes this will help prepare his children for a future against climate change, an issue that deeply concerns him. He believes the only two things required are his bare hands and sharp knife; nature, he says, provides the rest. "It eases my conscience when I contribute to the natural cycle … it's something I know for sure that future generations will benefit from."
Photos by Sara Savage
Address details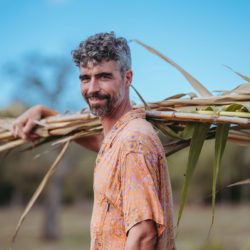 Tomeu Perelló