The journey begins when you get on the plane. That's how it used to be. Today, the adventure starts even before you know where you want to go. At least, this is the vision of tour operator B The Travel Brand Xperience, in Palma – a brand of the Barceló Group, which has offices in Madrid and Barcelona as well.
The new subsidiary in Palma is in a glass-fronted building in Son Rapinya near Palma's ring road. In an area of 1,200 sqm, visitors are invited to travel to distant countries and discover foreign cultures. The Travel Center of the Future is a mix of travel agency, library, cinema, and art gallery. The library offers guidebooks and illustrated publications, and every month there is a new exhibition by a well-known photojournalist, who has already visited Cuba or the Himalayas with his camera. With one of the employees of B The Travel Brand you can plan and book a trip to your dream destination directly on site.
"We are not a typical travel agency with a desk and two chairs," says flagship director Beatriz Urgel. "We want to surprise the traveller with new ideas and provide them with useful experiences and information." Each month, B The Travel Brand offers a varied programme on a destination or theme, with lectures on travel destinations, workshops, exhibitions, concerts, book presentations, and film screenings. Additionally, there is an extra programme for children, which should make the little ones curious about foreign cultures. They can taste the spices of a different country, be read an Indian fairy tale, or make a typical Roman plate with antique motifs. Participation in all activities is free of charge. They are taking place daily (except Sundays when the Centre is closed) in the library, the cinema and auditorium, and the Club for Small Travellers.
Registration is recommended, as the multi-part photography and film workshops, especially – led by professionals like photographer José Barceló or producer Joan Pizá – are quickly sold out.
"Our goal is to provide first-hand information and real-world experience in every event," says Beatriz Urgel. At the opening of a photography exhibition, the photographer himself talks about his work and in a gastronomic workshop, the chef personally presents the specialities of his country. Journalists and travel bloggers speak of destinations where they have travelled to and give tips on how to, for example, visit New York with a family in a relaxed way or how to live as a drop-out on a Caribbean island.
Repeatedly, there are focal topics. In November, for instance, one was 'Boda empieza con B' with activities related to marriage (wedding planning, bridal make-up, fashion shows) and movies about the most beautiful honeymoon locations. "Trends encompass exotic destinations like Japan, the Maldives, and Vietnam," says Diana Salcedo, one of three personal travel consultants in Son Rapinya. With them, you can plan your trips in detail, book excursions, and get the cheapest hotel rates and flight connections.
"We are a team of fun-loving globetrotters," says Maria Cadena Perez, who oversees the programme-planning together with Beatriz Urgel. Through the event 'Travel Talks', even they keep discovering new destinations. "I was particularly fascinated by the photo documentation about Iceland from Sebas Álvaro," says Maria Cadena Perez. The island of fire and ice is one of the most impressive places in the world for her – and is now on top of her travel list.
Photos by B the travel brand
Address details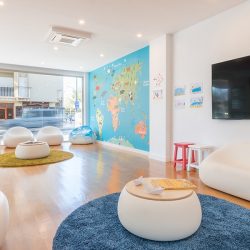 B The Travel Brand Xperience
Camí dels Reis 105, Palma