Dining next to the sea overlooking the picturesque port of Andratx with its luxury yachts, can you think of a better way to spend the evening?
Toni Vera's restaurant Sumailla fuses Japanese and Peruvian cooking to exceptional standards, while keeping its originality. Chef Mauricio Farinola combines his passion for cooking with his Argentinian roots to add his personal touch to the food. Having been brought up by Spanish/Italian parents, his passion for food allows him to understand the importance of quality and value of the kitchen.
Mauricio started his career in cooking at the Institute of Gastronomy in Argentina, in Gato Dumas where he went through vigorous training by the well-known Japanese cooking specialist, Iwao Komiyama. After having worked in various sushi restaurants in Buenos Aires, he started his travel adventures to Spain where he fell in love with Mallorca and has since been named one of the best sushi chefs on the island.
The restaurant itself is filled with natural light and designed to minimalistic standards (courtesy of architect Jaime Garcia Ruiz). With decoration that integrates the natural surroundings to make the most of its position which is one of the most privileged coves in Mallorca and probably in the Mediterranean. You can eat al fresco on the terrace, almost touching the water, and see some of the most beautiful vistas on the island as the sun sets behind the hills of Andratx.
If you like to enjoy a glass of wine with your meal, you will be pleased with Sumailla's selection that features some of the best wines from the Island as well as the mainland and International.
There is also a cocktail bar inside, offering an expansive menu of speciality cocktails as well as a superior list of international champagnes.
Sumailla's philosophy is "to maintain maximum care for detail, provide originality, be top quality and to create flavours and sensations that will never leave you". This certainly proves true in the result of their loyal customer following.
Address details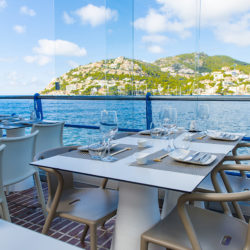 Sumailla Restaurant
Almirante Riera Alemany, 19 Port d'Andratx, Mallorca