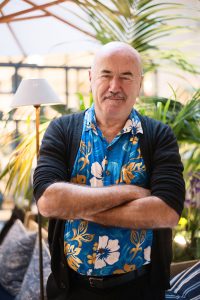 Paul Cemmick likes coffee. As a freelance illustrator, he also likes to station himself in cafés to work, preferring the hum and buzz of street life to drawing in solitude.
It was while enjoying such a scenario that he hit upon something entirely new – 'a happy mistake', as he calls it.
Realising he'd left his watercolours at his El Terreno home, and accidentally spilling a little coffee onto the saucer, he idly dipped the end of his spoon into it, and began sketching. "To my surprise, it actually turned out quite good!"
Three exhibitions and numerous 'coffee drawings' later, Paul was in Fibonacci café in Santa Catalina with a friend he'd just drawn this way, when the young waitress expressed her delight at the result.
"She said her grandfather was a cartoonist", says Paul. "When I asked who, she told me he was Luis Bermejo" (the brilliant internationally-known comic artist, who sadly died in 2015, was a personal hero of Paul's).
A week on, and the friendly waitress had set up a personal visit: renowned English illustrator meets Spanish comic-strip legend. It's the kind of chance happening that occurs frequently to Paul, who divides his time between Mallorca and Brighton in the UK. The city of Palma and that of the artsy south-coast beach community share parallels that make them conducive to vibrant, creative living: "the great mix of people; the sense of compactness and walkability; the lively social scene."
The son of a dressmaking mother and an accordion-playing father, and with a sculptor brother, Cemmick is the type of dextrous breed who are innately good with their hands. After studying graphic design and a stint freelancing, he migrated to London to work for Walt Disney as an illustrator. That was the move that got the ball rolling, leading to long-running collaborations with the BBC, ITV and a clutch of high-quality publications in the UK.
It wasn't always this way. Starting out as an impoverished artist living in rural England, he says he "failed miserably as a freelancer. Looking back, it was a ludicrous way of doing it because I was sharing a flat in the west wing of a mansion on a hill in the middle of nowhere with a bunch of layabout musicians, and I was the only one paying any of the bills."
He gives a characteristically hearty laugh. "This was before the internet, so I used to have to parcel my work up in brown paper, take it to the station, and put it on the Red Star train to London Victoria."
Of course now, our hyper-connected times mean Paul is free to live wherever he pleases; and the warmth, light and lifestyle of the Balearic capital seem to suit the Panama-hat-wearing, colourful shirt-clad Englishman very well.
Doing drawings at a charity event in Paseo Maritimo's Boathouse one day, he was suddenly approached by a pair of excitable, loud and glamorously dressed young ladies – two of the TOWIE girls.
"I had a sign up saying my work had appeared in four BAFTA award-winning TV shows, and they told me they had also won a BAFTA!"
Indeed, they had. Re-titled The Only Way Is Mallorca, the British reality show was shot on the island in 2015 – and the cast members were keen to get Paul featured.
Game for it and not one to take himself too seriously, Paul appears in the first episode of the hugely popular, brash series, much to the amusement of his family and friends.
It's another example of the way the island works for Paul and many who live here, finding themselves beset by entertaining coincidences and curiously novel connections. Less six degrees of separation than three, perhaps.
"The whole island's like a big village," he muses.
A keen guitarist, next to art, music is Paul's other big love. That and the life he has created on Mallorca that opens the door to lucky coffee spillages, and anecdotal TOWIE meetings. The only way for Cemmick is his own unique way.
Address details