How do you find the city behind the city … an authentic slice of life in Palma? Follow in the footsteps of other discerning visitors who have sought their own unique experience of Palma (and Mallorca): stay at Hotel Cort in the heart of the capital and immerse yourself in the surrounding rich cultural and architectural heritage.
This urban boutique hotel is in the important Plaça de Cort, facing Palma's handsome 17th-century town hall and the emblematic ancient olive tree, featured in millions of tourist photographs.
In the three years since it opened, Hotel Cort has welcomed winter guests from all over Europe and, during summer, people from around the world. These visitors have discovered that it's the best hotel for exploring the Old Town, shopping on the city's 'Golden Mile', and trying out exciting new restaurants. A mere 15-minute walk from the hotel and you can hear the Mediterranean lapping on the shore, sink your toes into the sand, or enjoy the vibes of an urban beach club.
When not out exploring, enjoy relaxing in your spacious suite – designed to be comfortable and stylish, but also homely. Or enjoy food and drinks sitting in the square on Hotel Cort's restaurant terrace – the largest in the centre of Palma. It's the perfect place to sip a cappuccino, watch the world go by, and remind yourself that this privileged address is home for the duration of your stay.
The Swedish-and-Mallorcan-owned hotel is run by Norwegian general manager Tone Adserø and her team of personable young people, all dedicated to looking after their guests. Your stay will be enriched by these confident communicators, who keep themselves up to date with the latest of everything that Palma has to offer and can share stories and insights – not found in popular tourist publications – about local history and traditions.
"Such interaction helps build relationships between guests and staff that create return visits and loyalty," Tone says. "I want our team to do our utmost for our guests, so that they too fall in love with Hotel Cort, Palma, and the rest of Mallorca."
Address details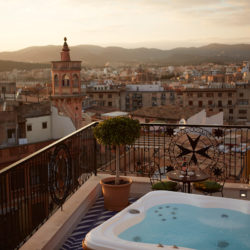 Hotel Cort
Plaça de Cort, 11. Palma de Mallorca