For larger properties that need dining tables appropriately sized for the room or terrace, Livingdreams in Santa Maria custom-makes Merbau tables suitable for indoor or outdoor dining.
Merbau is a resinous tropical hardwood and one of the world's most durable woods. Its excellent strength characteristics and stability make it idea for the design and production of high-end luxury tables.
Livingdreams's unique one-piece-top tables are given their characteristic dark colour using a special smoking technique.
Each table is individually produced to the client's specifications, and the company works only with small family-owned factories, so they can supervise that only flooded wood is used.
Address details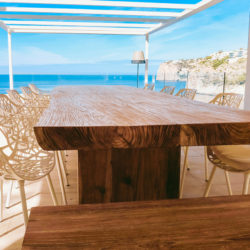 LivingDreams
Plaça Hostals, 19, Santa Maria del Camí