Art collectors Drew Aaron and Hana Soukupovà from Gallery RED are pleased to announce their latest exhibition Homage to Jean-Michel-Basquiat. This rare opportunity includes 16 historic works from their private collection, including the famous Back of the Neck, 1983, which has never been seen before in Spain.
"Mallorca has given our family beautiful treasures, and in return, we would like to share some of our most fun artworks with all the Balearics." say the couple.
Basquiat's work is well-known for its for its intense colours and expressive brushstrokes, characteristic of the Neo-Expressionist art movement. His love for childhood cartoons and the wildness of his youth is reflected in his paintings.
The exhibition is available to the public until 23rd November at Gallery RED in Plaza Chopin.
Address details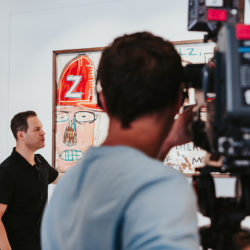 Gallery Red
Plaça Frederic Chopin