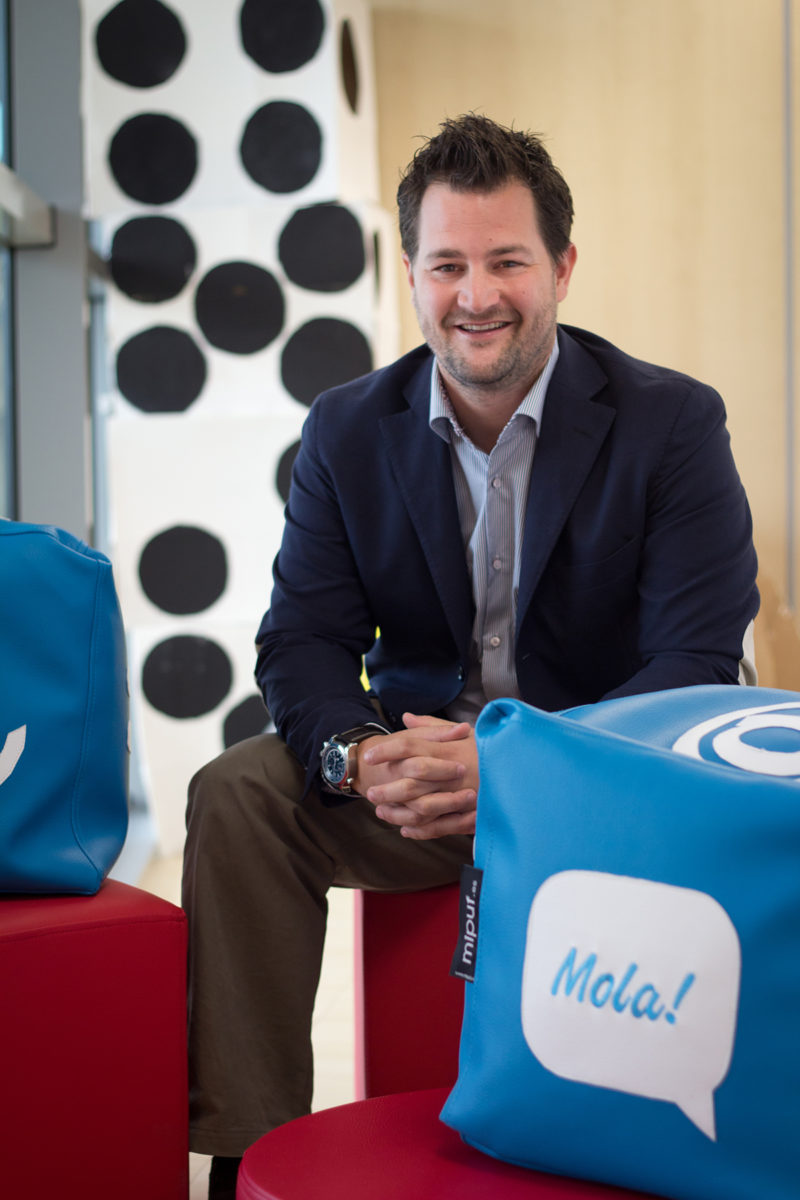 Bucking the trend and indeed the perception of the typical well-to-do young Spanish whose ambition is to become funcionarios (civil servants), the inspiring 31-year-old entrepreneur, born and educated on the island to a Swiss father and Mallorcan mother, is refreshing to meet.
At the tender age of 17 he used his powers of persuasion to convince his parents that a university degree could wait, while he explored his passion for the Internet. Way ahead of his time, he set up a guide website on how to use online casino websites, earning his first cheque for $60 from referral fees – whetting his appetite for the business potential of the World Wide Web.
He had a strong investor behind him: his grandmother gave him 3,000 euros to develop an online bingo website, which he sold at the age of 24 for 8 million euros.
Utilizing the experience gained from his early success, he is now helping other young local entrepreneurs to realize their dreams. With unemployment in Spain for under 25s at more than 50%, it's an inspiring story of what's possible – a silver-lining in dark Spanish clouds.
With his Mallorcan business angel partner Paco Gimena (51), they set up MOLA.COM in 2011 developing rapidly what has become the leading investor in young Internet companies – not only in the Balearics but for the whole of Spain. With over 11 million euros invested in 57 start-up projects, Enrique admits he is spinning a lot of plates – still managing to say it with a confident smile.
The leading light for Mola.com is PLAYSPACE, closely related to Enrique – his cousin Alfonso Villar is the founder. They launched the business in 2010 offering board games online such as Dominoes and Ludo via social network sites – FACEBOOK and TUENTI for the Spanish and Portuguese speaking markets – with more than 600,000 active monthly users and 3.3 million visitors. They received $1.9 million investment in 2012 from an American investor to further develop the platform. Enrique estimates that in the next three years Playspace is likely to be worth in excess of $100 million.
The major market of interest for Mola.com and their incubator and accelerator projects is Latin America. Plans are afoot to open offices in Rio de Janeiro and Miami this year. Enrique believes that there are many synergies between the Spanish and the Latin Americans – language of course being a primary factor, but there are also strong cultural ties. In addition, the market size, the current surge in business growth and in Internet usage, as well as lower competition levels than other more developed markets, make South America the obvious choice.
Mola.com receives more than 2,000 applications each year from hopeful entrepreneurs seeking their backing and support. So what criteria are used to select projects? "The main criteria we look at are that there is a potential market for the product, scalability is hugely important, and that the market potential is international. But of main importance is the person – intelligence, a strong drive and a vision are the most important factors for a success applicant."
So what advice would Enrique give to young people dreaming of becoming the next Mark Zuckerberg? "Be brave, knock on doors, persist and believe in yourself." I asked him if it was difficult to find the necessary skills on the island. He actually sees Mallorca as offering a great competitive advantage in attracting and keeping highly skilled people: "University graduates are happy to work here for less money, as the quality of life on Mallorca is compensation in itself. Foreign investors can take advantage of the lower salaries, than say the likes of Barcelona, Madrid or indeed London, to develop technology businesses here."
Enrique has been vocal in the media about the concept of building a cluster of technology companies – naming his vision for Mallorca as Silicon Island. He says, "Look at the likes of Israel, where they have developed very successful sustainable business models; Mallorca has to do the same. There are a number of wealthy foreigners living on the island who could be very willing to invest here and we need to capitalize on the available young talented skilled people here and bring them together with wealthy business investors." I'm curious at this point to know what's next for the ambitious young Mallorcan once one of his projects realizes the $100 million sales price. Anyone else might not have a clear answer, but Enrique already has a plan for what comes after Mola.com. "I want to push the possibilities of technology to change the world – finding new ways to provide energy, developing logistics so that the excess food we have here can be distributed to those who are starving – it is just a matter of logistics."
I ask him as a final question – who is your role model? and he says "Richard Branson – he is not afraid to be different. There are no limits only those you put on yourself".
And with those words of wisdom I bid my friend farewell and as I drove away from Parc Bit I though how great it would be for Mallorca, Spain and maybe even the world if we had the technology to clone Enrique Dubois.
"There are no limits only those you put on yourself"