On 4th July, the French clothing brand Emilie Marcelle presented their croisière collection alongside Mallorca's jewellery designer Isabel Guarch, amongst many others. The evening held at the timeless Palacio Can Marques was the perfect backdrop for the fashion brand to present their unique collection of clothing.
It was a fantastic gathering of fashionistas, which included the participation of: Lurdes Bergada & Syngman Cucala, Little India, Verd Marí, Diamond for Eden, Folklorious and Sol Vintage Mallorca.
Palacio Can Marques were proud to host an event that brought together high-quality clothing. From hand-made jewellery to vintage glasses, every aspect of luxury fashion was presented. Invitees were spoiled for choice at the plethora of items on offer.
Address details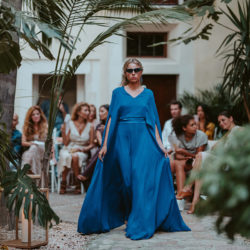 Palacio Can Marqués
Carrer dels Apuntadors, 15, Palma