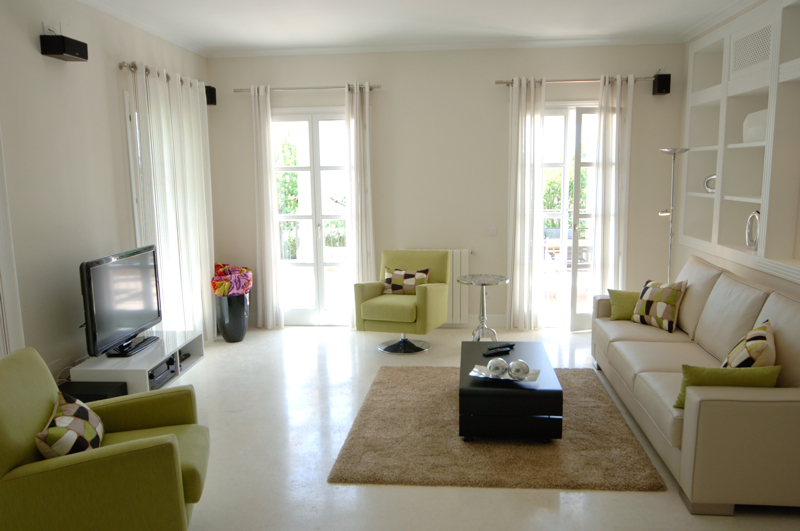 "An empty house leads to a less profitable and slower sale," says Knox Design's Justine Knox, an interior designer specialising in "home staging" – the process of enhancing the appearance of a property for sale or rent, to ensure maximum appeal to prospective purchasers/tenants.
A recent example of her specialist work is a substantial seven-bedroom Bunyola country house, now on the market. The owner had bought the property to modernise and sell on, and Justine was commissioned to furnish, accessorise and equip the substantial home,
"It would be ready for a buyer literally to kick off their shoes and start living the dream."
Her project began at the optimum time: renovations were almost completed and the decorators were waiting to be given a colour scheme. First stage was a walk-through of the property and lengthy discussions with the owner, investor Kevin Stevens, to determine the budget and enable Justine to put together an inventory. The property has 7 bedrooms, 7 bathrooms, 3 lounges, 2 kitchens, one formal dining room, bar, gymnasium, covered terrace and 2 open terraces.
The owner had inherited some items of furniture with the house, and it was agreed to re-vamp these and incorporate them into the design. "This helped to start visualising the style that would run throughout the villa," says Justine.
A four-poster bed was lacquered white to give it a modern, unique feel; dining table and chairs were also lacquered and re-upholstered. "Although this process isn't cheap when done professionally, it costs less than buying new and you often end up with a unique piece. If it's a quality item in reasonably good condition, I'd highly recommend giving it a new lease of life."
The client stayed personally detached from the project as much as possible; Justine says it's crucial to have an impersonal, objective attitude during the process in order to achieve the end goal.
"It was a brave and difficult move for my client to agree to let me paint the front door in a lovely glossy black," admits Justine, describing the first step towards her vision. She strongly believes in maintaining harmony throughout the main living areas, and the already-furnished kitchen (black and white) inspired her to use black as the dramatic colour. "A large expanse of white can look harsh and cold, so we chose oyster as the contrast for walls and floors only, using white on the woodwork."
Glass chandeliers, lacquer, leather, crystals, velvet and brocade were chosen in black, and walls were stuccoed in near-black: "I knew that this majestic house could take it and still feel light and airy," she says.
Black and white was the obvious choice for the dining room, which connects directly with the kitchen. Pelmets were re-vamped and sheer curtains with a smart black and beige stripe added for softness. "Stunning chrome and glass lights added a touch of drama, along with our fantastic recycled table and chairs."
The main TV room was made more casual by introducing pistachio green as the accent colour and adding modern furniture. "We kept the bookcase minimalist, adding only white and chrome accessories and leaving enough space for the potential buyer to imagine their own belongings fitting in."
In the main formal lounge, the two large sofas could easily have looked lost, so Justine defined the space to include a practical office area and reading corner.
Upstairs bedrooms were kept quite neutral "but glammed up with enormous leather headboards, classy furniture, lamps and silk curtains," explains Justine. Because the rooms are large, she left plenty of space for the next owner to put their own stamp on them.
The house has a new wing, comprising lounge, 2 bedrooms and bathrooms and a long internal passage. "Here we kept to a modern white fresh backdrop with fun accents of colour: green, blue, pink and purple were all used individually and tied together using the art that was designed to turn the internal passage into a gallery."
Exterior furniture was chosen for its practical low maintenance and stylish look, and in black to tie in with the interior colour scheme. "The lack of cushions on the sun beds and dining chairs means that it looks chic at all times, and nothing store on a rainy day."
The covered terrace was painted for a fresh feel and existing sofas re-upholstered. Scatter cushions and accessories were chosen to connect the exterior and interior schemes, and billowy curtains added to give a sense of privacy and diffuse strong sunlight.
The result of Justine Knox's "home staging" is stunning: a mixture of old and new, textures and contrasts, that work in harmony. In a property market with plenty of buyer choice, it certainly has a competitive edge.
Justine's tips for property vendors:
Understand who your buyer will be
Give them some wow factors to remember
Show a five-star lifestyle
Make it easy for them to see ALL functional areas of your property
Give them a home they can move into immediately
Arrange furniture to allow freedom of movement from one space to another
Have a focal point in each room
Accessorise without cluttering
De-personalise, and display nothing which could be offensive
Address details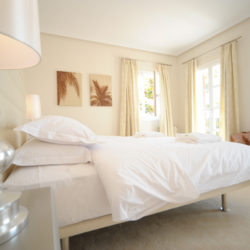 Knox Design
C/ Valencia 45, Santa Ponça