Experience and passion are some of the adjectives that define Barceló Montanaro Estudio, a leading furniture and interior design firm that has been creating beautiful spaces and building customer loyalty for over 40 years. Now, with the second generation working their way through the industry with enthusiasm and drive, it's time for a new beginning.
"We want to infuse our love of design into our clients; this is not just our profession, it's our passion", says Carolina Barceló, the creative soul behind B M Estudio. While Carolina has worked in set design in film and advertising, her sister, Olivia, is an architect; joining their parents' company felt like a natural step and an opportunity to bring all their own wisdom and skill to an industry they feel passionate about.
A renovated space
It is in their space in the heart of Palma that they are going to pour all their creativity to build something that truly reflects everything that they have to offer. A renovated space with carefully selected pieces to showcase their creative genius and inspire customers. This new space will provide them with the freedom to exploit all the possibilities that this rich market offers, reinvent themselves and explore their truest identity.
"We work with some of the best Italian furniture brands, but we are also a creative team with decades of experience – that's what sets us apart", Olivia explains. Over the years, B M Estudio has expanded its catalogue with many of the most exclusive brands on the market, such as B&B Italia, Gallotti&Radice, Giorgetti or Maxalto, and is proud to showcase its curated selection of furniture in one of the largest showrooms of Palma centre.
Visit their store to look for inspiration in the latest additions to the market, exclusive limited edition pieces and expert guidance for your own interior design project.
Address details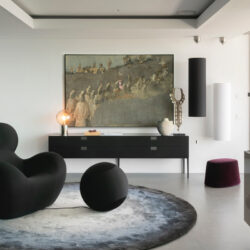 BM Estudio Design Group
C/ Bonaire esquina Conflent, Palma