It was after many years of traveling that the Uruguayan painter Sergio Alvarez Frugoni came to settle in Mallorca in 1997. He journeyed between South America, Brazil, Uruguay and Switzerland during the nineties and finally chose this Balearic island, specifically the village of Alarò, as his place of work. It was not an accidental choice however. The basic element of light in Mallorca has long been described by artists as extraordinary and this, together with other inspirational reasons, persuaded the artist to establish a home on the island.
A number of features of Mallorcan life have seduced the South American painter including the lifestyle, cultural and intellectual diversity, as well as the island's proximity to other important art capitals. Alvarez believes that this Mediterranean island remains an authentic environment, a bubble in a swirling Europe, producing positive energy that is alive and fresh.
The artist works primarily with acrylic on canvas, but has also painted frescoes and made sculptures. When Alvarez creates, it is to within himself that he looks, producing work that is rich, full and intense. It represents the meandering nature of his life, the chaos of his thoughts, the depth of his soul, and dimension of his fantasies.
His relation to colour is physical; he makes it live and explode, he uses its contrasts, he plays with it, dominates it. In his hands, colour is soft and suddenly violent, warm and welcoming, then swiftly cold and dark. It is ever present, invading, simultaneously secretive and shameless. In these colours shapes form with subtlety. They are an invitation to travel – travel in time, in space, in spirit, and in symbols. Travel in abstraction and reality, in the infinitely small and infinitely wide.
They are the living shapes that remind us of who we truly are; sophisticated creatures full of dreams and experiences, tortured by our fears, led by our emotions, and teased by our feelings. At times empty, and at others complete, branded by the past, absorbed by the present, and anxious of the future.
Some of the figures in the artist's work are obvious, attracting the eye immediately, as if to establish contact. These are followed by the less obvious ones, sometimes minute, fragile, hidden, or even so large that the canvas cannot contain them. Never present by accident, and living in a fantastical universe, these creatures talk to each of us. Animals, men, women, dressed or naked, objects from our lives – boats, pianos. These creatures have ever-changing faces; they make our viewing mature, opening new thought channels, and never leaving us indifferent.
Born in Taracuarembò, Uruguay, in 1947, Alvarez initiated his artistic career in 1961 when he began studying at the Montevideo Art School. He later moved on to teach at the Nuestra Señora del Huerto school in Florida, Uruguay. From 1973 and '74, he was living between Montevideo and Buenos-Aires, and it was during this time that Alvarez began to dedicate his life to painting. The decision however, was partly fuelled by an invitation from the Marcos Gallery in Caracas, Venezuela, where he was asked to live, work and exhibit. In 1979 he established the artist group 'Taller 69', and organised exhibitions with four fellow painters, dedicated to a style called 'critica figurativa'.
Following this experience, Alvarez was left with a conflicting feeling about the mercantile aspect of art. This unease still remains today, and during the late `70s it forced the artist to retire to the Caribbean coast where he isolated himself in a wild and authentic environment. As a result, the work he produced became impregnated by the contrasting cultures of the Caribbean paradise and Cono Sur, hence creating a dialogue between life and art in a series of paintings entitled 'Conversing with Paradise'.
In 1982, Alvarez began a series of travels outside Southern America to Switzerland, Italy and Spain. Thanks to his search for new locations while living in Barcelona and then in Switzerland, the artist's fame began to rise in Europe, culminating in being awarded the Bienale of Contemporary Art Scandicci in Florence prize in 1983. He then showed his work in numerous personal and collective exhibitions in cities from Paris to Tokyo.
The painter's work is present in private collections in South America, the United States and Europe, as well as in contemporary art museums such as the Scandicci in Florence, Francisco Navaez in Venezuela, art foundations in Aterrana, Lichtenstein, and also in some important Swiss banks.
Sergio Alvarez Frugoni's paintings are on show at his studio in Alarò, Mallorca.
Address details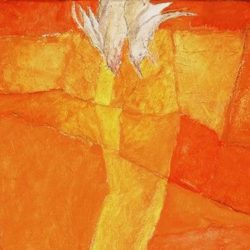 Artist Alvarez Frugoni