Arriving at Finca Son Solas for a weekend retreat at Ananda retreat center, I was pensive.
I had not practised yoga for sometime. My hectic schedule and demanding career in Palma are so busy, I sometimes forget to breathe. To take three days out for myself is counter-intuitive for me, but I am trying to turn over a new leaf – to turn off my phone sometimes, and turn inward.  I have become acutely aware of time, and how it is flying, and how much I want to savour my time instead of simply spending it.
The Son Solas Finca is beautiful, tucked in the ancient terraced olive and citrus groves of the Sóller valley and it was a glorious spring day. Our hostess, the lovely Nadine Hawa, left a  personal handwritten note in my room, along with a tote bag, and other thoughtful touches that made me feel cared for, I felt at home.
The other weekend yogis turned out to be 10 friendly practitioners all in search of a similar moment in their lives. The pace of the classes, looking out over the beautiful Sóller valley was perfect for someone wanting to reconnect with their yoga practice and I felt more relaxed than I had in months.
The meals at Ananda are vegetarian and wholesome, with fresh juices and produce from the finca´s organic garden prepared with care by local chef and nutritionist, Suzanne Garaty.  No alcohol is served, and the focus is on holistic healing, here. Realigning your mind and body through thoughtful eating, and connecting to nature during a guided hike. I went cycling on my own through the mountains along the northwest coast of Mallorca, a physical and mental challenge that I highly recommend.
So far this year I have participated in two Ananda Mallorca retreats, the second one my daughter Eva, 12, joined me for two of the three days. She enjoyed it so much we plan to go back in October.
After three days of yoga, I felt incredible – I genuinely had not realised how stressed out I was running a very busy and fast growing media business.
I realised that the deep sense of relaxation I discovered, stretched in Savasana on my mat, and the renewed energy it gave me is something worth enjoying everyday. So I am striving to build in some 'me time' to my busy schedule because I need to be fit and full of power and energy to deliver on my responsibilities.
And, as they say in the movies, if you are not the leading lady in your own movie then whose life are you living?
Address details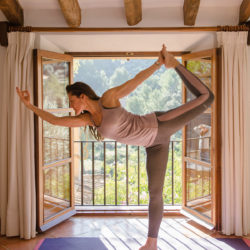 Ananda Mallorca
Cami de Son Sales, 58, Marratxí