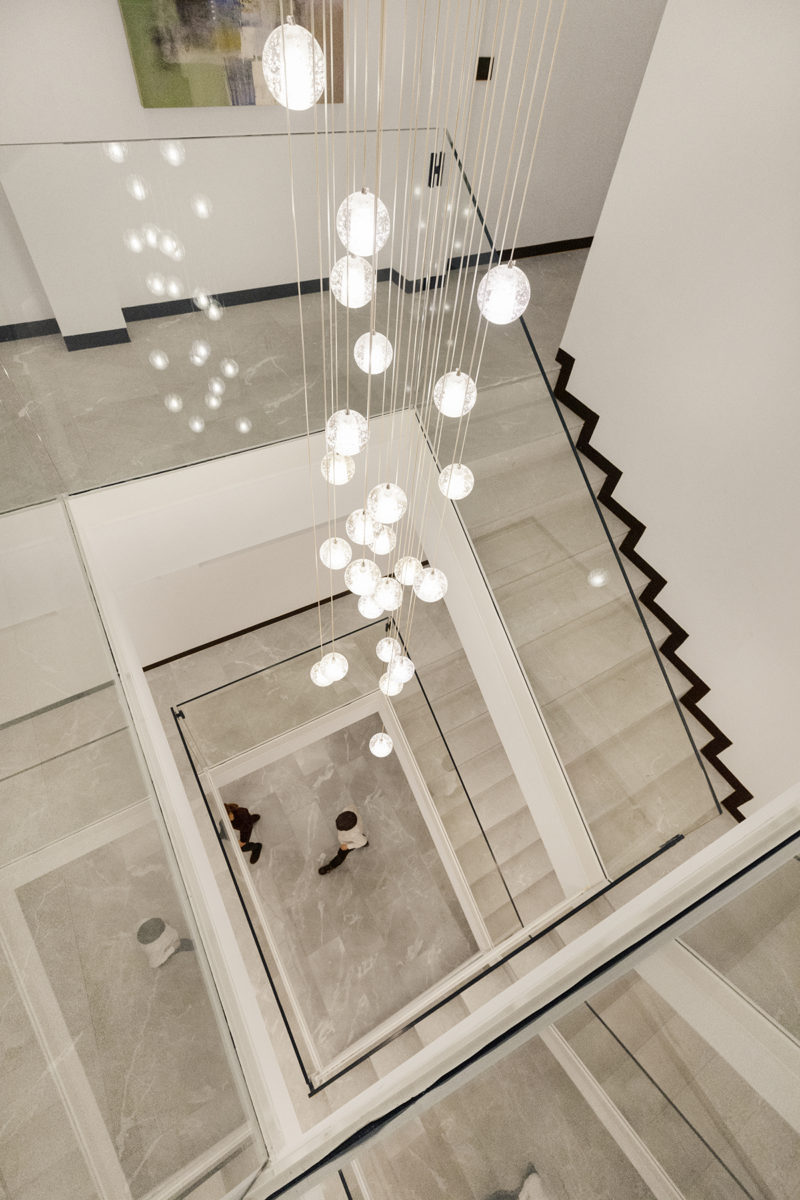 S anto Tomás is the patron saint of architects, and Villa Santo Tomás is aptly named after the road on which it was built, in the increasingly exclusive enclave of Costa d'en Blanes.
Lawyer by profession, and CEO of law firm Bufete Staubach, Xisco López Hinojosa admits to being a "frustrated" architect. "I love everything that has to do with a project of a new house, from the architectural project to the last details of the construction. It is a passion for me," explains Xisco.
This meant that he was keen to be much more involved than the average client in the creation of VST (Villa Santo Tomás) from the initial concept to the finishing touches. This required the employment of an architect willing to work especially closely with their customer while integrating their designs into a shared vision – and Alejandro Palomino was the obvious choice.
Distinguished construction firm Edificam completed the villa in the summer of 2017, its grand contemporary form of cubic geometry merging Modern Mediterranean with Bauhaus principles. Access is through the lower level of the building, and into a bright, double-height reception hall, decorative artworks immediately impressing arrivals. A lift for up to eight connects to the various levels, while a glass-sided staircase also spirals elegantly up the floors, illuminated by dozens of hanging glass balls.
The bedroom floor or night area is divided into four suites – all with own bathroom and dressing room. The huge master suite also features a beautiful freestanding bathtub in black marble, with views of a fireplace from both the tub and the bed.
The top floor is occupied by the main living space, complete with open kitchen and dining areas. Floor-to-ceiling windows look out north over the street and spectacular views of the surrounding valley, and to the south a wonderfully secluded garden terrace with solar-heated swimming pool, alfresco dining space and an elevated level with hot tub. A study also provides open views of the whole floor and pool, while in the lower part of the building a spa and gym have also been installed, with heated indoor pool, sauna, hammam and electronic massage loungers.
Interiors by the acclaimed designer Yolanda Cubo, who has merged clean contemporary minimalism with burst of rococo and arabesque filigree and occasional exotic artworks and curios, while deviating little from the tasteful monochrome palette.
As well as being a savvy investment – the property currently on the market at €4.5million – it is the main residence of Xisco, who wanted "small 21st-century palace…where its inhabitant lived like kings, and I think I have achieved it." And we are certainly inclined to agree.
Address details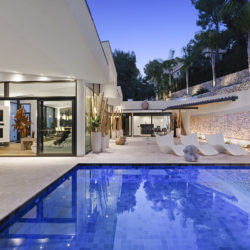 Palomino Arquitectos
C/ Arquitecto Francisco Casas, 17, Bendinat