The first thing that strikes you upon entering this newly-renovated apartment – the home of interior designer Yolanda Cubo – is its dreamy luminosity. The entrance is not a traditional hallway, but an airy space that opens up to and connects the other sunlight-washed sections of the property. Co-founding partner of the Palomino architecture firm for the last decade, Yolanda has coined the term 'balanced eclecticism' to describe her style, with interiors that combine on-trend mid-century pieces, such as an original 1960s Verner Panton lamp, with playful vintage print wallpaper and animal skin rugs and throws.
A key part of the renovation has been the restoration of some of the original elements of this nineties-era property, such as marble bathrooms and oak flooring that lend a certain air of the Parisian. The dining room is a versatile space; everything is designed so that the furniture can be easily re-arranged according to the occasion. In the master bedroom an original headboard uses cubic mouldings resulting in a striking 3D effect. Adding to the airy luminescence of the dwelling, walls have been coated with white micro-cement with a touch of pearl.
Outside, a cosy terrace invites visitors to relax on wicker seating to enjoy glorious views along Palma's buzzing Paseo Marítimo, expansive marina, and shimmering sea beyond.
Yolanda has brought her signature look and feel to this 100-square-metre apartment, creating something that is timeless yet trendy, vibrant yet homely and, indeed, eclectically balanced, beautifully.
Photos by Tony Martos (project) & Xisco Kamal (portrait)
Address details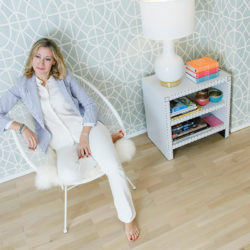 Yolanda Cubo
Paseo Marítimo 37, Palma