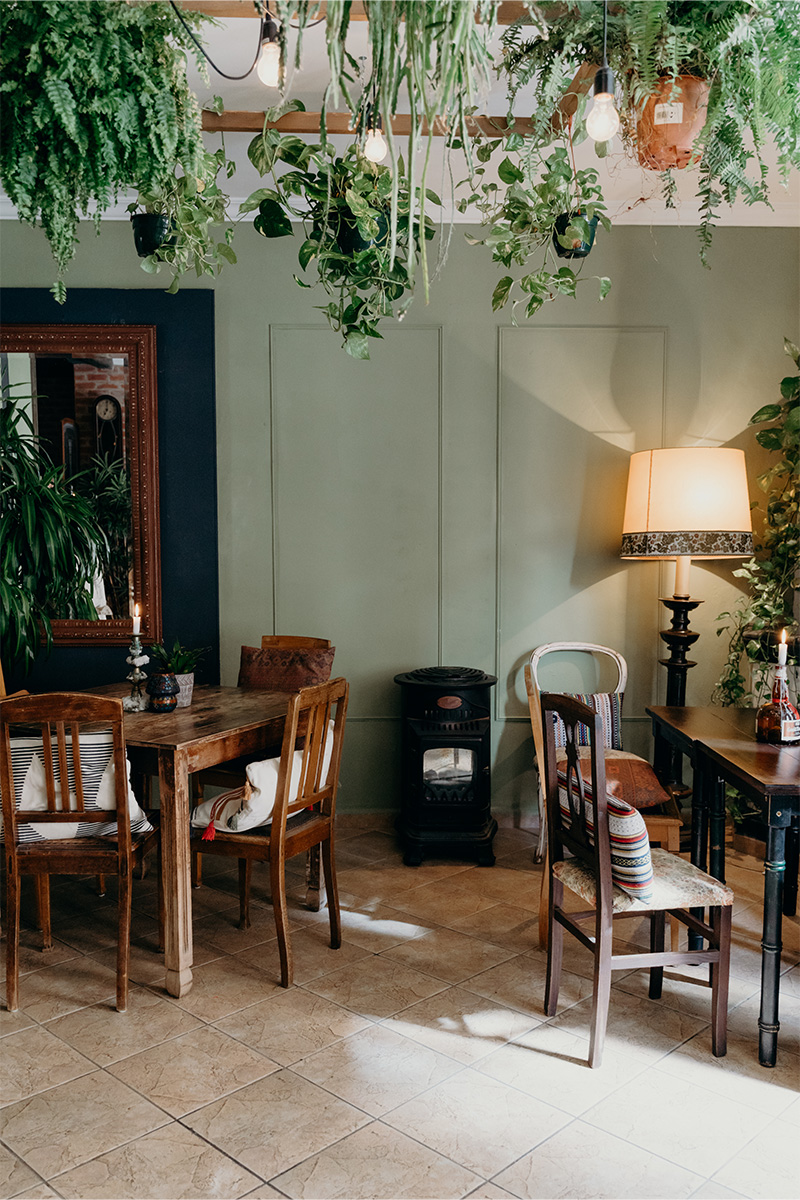 What makes a good pub?
Candle-lit corners, carpets and a traditional meat pie would be the typical answer of a Northern European. Though popular, this last point might be contested by Andrea and Donal from Grà who create an equally delicious pub menu made entirely from plants. Natural then, that the name Grá means love in the Irish language. They are a meat-free, animal appreciating Irish pub that celebrate good food, good drinks and good people. And not to mention good music too, which charges Santanyí on a winter's Sunday night with an irresistible Guinness-held sing-along.
At the centre of community
"I spent a lot of my time experimenting in the kitchen," says Andrea, sat next to her husband and Labrador, Rupert, on a dark leather sofa. "And you'll find me behind the bar," says Donal, mirroring his wife's warm Irish charm. The couple opened Grá in 2020 during a difficult time on the island. Fewer tourists that year meant less footfall, but the couple maintain that it was a crucial time to strengthen ties in the local community. "When we first opened Grá it was the support of the locals that kept us going. Some already knew us from foodjuicepassion, but our role within Santanyí certainly grew," the couple explain, surrounded by pillowy sofas and candles. Aesthetically, Grá fulfils every expectation of an Irish pub. It is dark enough inside to feel genuinely cosy with enough oddities to feel personal. "It's like walking into someone's living room, isn't it?" laughs Andrea.
Although new to Santanyí, opening Grá was no first-time venture for Andrea and Donal. Donal had worked in Dublin for 23 years running various bars and Andrea spent years in the kitchen at Mollie's, another Irish bar in Cala D'or. Although both experienced, the couple admit that opening a restaurant on the island requires extensive research. "There are lot of behind the scenes costs and taxes in Mallorca, many of which you wouldn't expect," says Donal. "It's also the low season that you've got to be prepared for," adds Andrea, recalling Cala D'or as a "ghost town" in winter
A plant-loving menu
Reinterpreted pub classics like Sunday Roast, Fish and Chips and Cottage Pie are what hungry diners love at Grá, which Andrea says is "all made purely on taste". Lentils, nuts and mushrooms are often used instead of meat, but Andrea is clear that her cooking rarely uses meat substitutes like soya. "We're not about fake meat as they often add a lot of artificial flavourings. I work solely with what I buy from Santanyí market, handpicked and sourced locally."
Donal smiles, as a meat-eater himself, he says the taste is never compromised. As well as dishes from their homeland, Andrea and Donal offer cuisine from all over the word which sees dishes like Thai Noodle Salad, Quesadillas and Shakshuka take centre stage. Diners far and wide visit Santanyí for their delicious plant-only renditions, posing whether one day the couple will open another Grá.
"We get asked if we could open a restaurant in Palma, but we can't be in two places at once," smiles Donal, who says that his relationship with Andrea is what sits at the heart of the business. "Myself and Andrea is what makes it," he says, keen to create a true sense of Irish hospitality, right down to the warming food and not forgetting, freshly-poured pint of Guinness.
Text by Rosie Foot
Photos by Sara Savage