This year Rialto Living, one of the most emblematic lifestyle store in Mallorca, celebrated its 10-year anniversary with a special exhibition featuring artists previously showcased in their gallery.
On the 6th July at 20.30 there was a special invite-only event for friends, press and clients which included a private viewing. Guests enjoyed cocktails to the live music of the Gipsy Swing.
On 7th July, at 19.30, there will be a second event open to all the public.
Barbara Bergman and partner, Klas Kall, the beating heart of Rialto Living, had given each artist a piece of coffered wood ceiling on which they freely demonstrated their different techniques.
The money raised from the sales of the art will be donated to local charities including ASPANOB, Mallorca Sense Fam, Fundació Natzaret and Comedor Zaqueo.
This exhibition will be on display until the 8th of August 2017.
To find out more about Rialto Living please click here.
Address details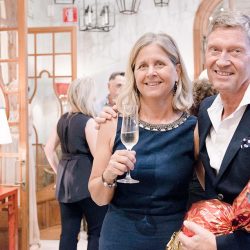 Rialto Living
C./ Sant Feliu 3, Palma