British contemporary landscape artist, Adrian Elgie is the latest local artist to showcase his work at Rialto Living in Palma.
The event drew many newcomers and admirers of the contemporary landscape artist, whose work aims to capture the perpetual changes and transitions in nature.
Addressing his guests, Adrian said:
"Over the five wonderful years I've lived on the island, the way I paint or approach a painting, has developed and still changes from day to today. This new collection of paintings show a broader way than usual, how I think and look at the world around me. Like the weather and the seasons, I have cloudy days, rainy days and sunny days. This can manifest itself in different ways, from subtle hues to hard lines, representative to abstract marks, all in one painting."
Adrian spends his time between the UK and Mallorca, and says he enjoys visiting the two different landscapes. His work aims to capture the unfinished landscape of perpetual change, with loose brush strokes, first marks and last marks, transparent overlays of nature and an uneasy balance of finished and unfinished areas of work.
​
Visit Rialto Living to view Adrian's work, which will be showcased until the end of August.
Address details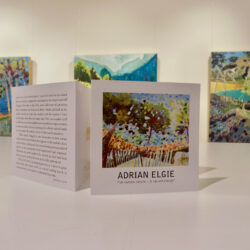 Rialto Living
Carrer de Sant Feliu, 3, Palma