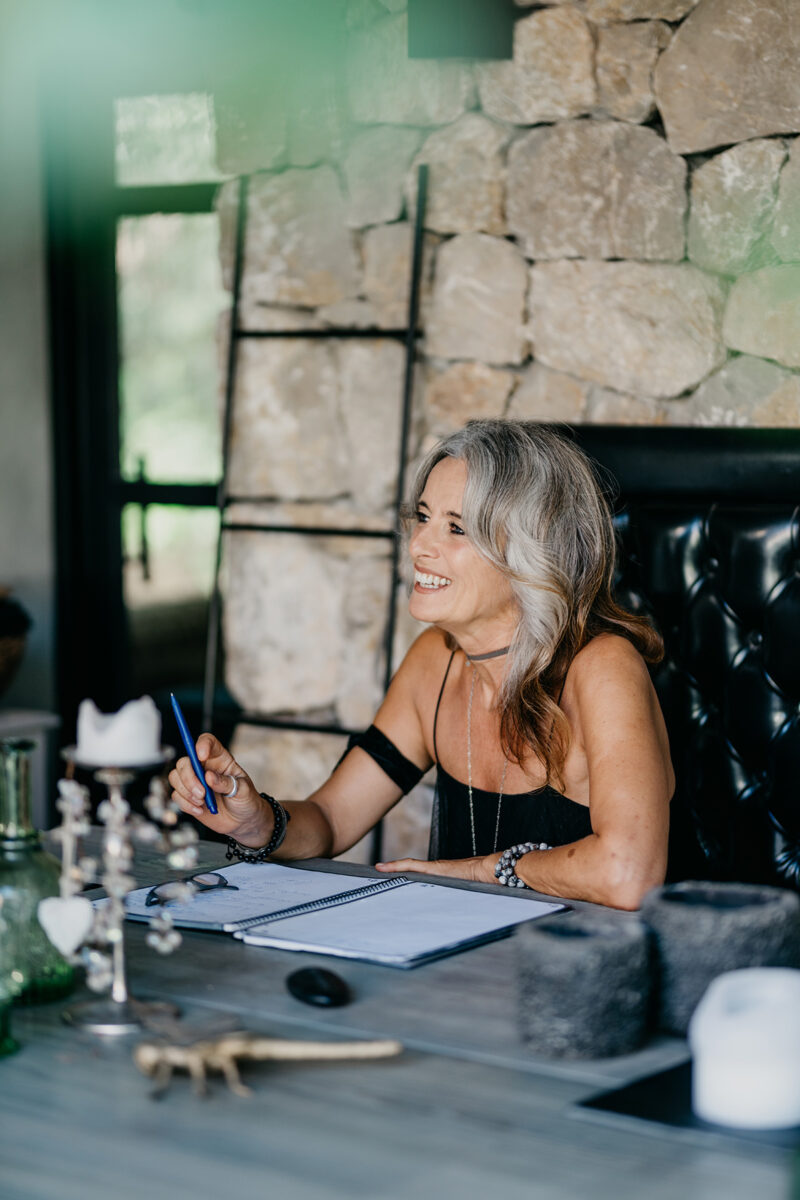 There are not many homes in Mallorca that are entirely made of wood. Even less with painted black ceilings and even less still, infused with incense and photographs of African wildlife. This is the home of property finder and developer Claudia Zivko who specialises in homes that are built for connection and personal belonging. She offers two services, finding properties for her buyers (listening to exactly their needs) as well as building them too (implementing her own unique style). "I feel my work is between the material and spiritual world and I find myself in between," she says welcoming us to her bohemian enclave in Gènova. The one she built entirely from scratch using the most natural materials and positive-thinking team she could find. "I believe in the energy of a place, the people that build your home are just as much connected to it as the materials that you use," she says.
Claudia is full of intention when it comes to finding and building properties for her clients. Homes are where to feel safe from the outside world and establish connection with friends and family. They are the places that Claudia believes are made for "life experiences" which enable people to unwind and naturally feel free to be themselves. "My clients will not buy a house, but buy a home," she says, ensuring that harmony and peace are always felt. In her own home, Claudia has done exactly that, where she has designed open spaces for spending evenings with friends and prioritising family time. It is the ultimate Mediterranean lifestyle, entirely built for familial warmth. "A place that unites who you are and creates that base for where you want to go in life," she confirms.
Claudia's approach as a property developer can be only be described as intuitive. In the background to all her building decisions, from choosing the right plot of land to considering the amount of sunlight and interior layout, Claudia is following what innately feels right. There is a kindness and genuine love that runs through the building of her properties, where she priorities positive connection above all else. One of the ways she does this is by maintaining a positive energy between her team. "It's wholehearted building where we all work together to create something really special for the client," she says, pressing the importance of good energy between people. It is only when the social elements are strong that Claudia is able to create uniquely special homes. "I do what I do with absolute integrity. I'm not thinking about who will buy the property. How I create a home will either appeal to you or it won't, but that's the magic of personal choice."
The result of Claudia's property development has meant that international and local buyers in Mallorca can instantly feel at home here. Her lovingly built properties are made with a deep sensibility. She knows how a home should make us feel and follows her heart, utilising all the social and spiritual tools available to her. Crystals and stones are just one example of how she supports her properties, bringing a sense of rest and security. "I once set Obsidian stones from Mexico into the cement of a property I built to infuse that sense of being grounded and protected," she says, passionate about helping others feel at home in Mallorca.
To this day, she continues to build in Gènova, a typical Mallorca 'pueblo' where she feels integrated in the community. She built her own home in the area and feels strongly connected to this part of the island, pleased to be helping more people, who like her, connect to Mallorca and its positive energy.